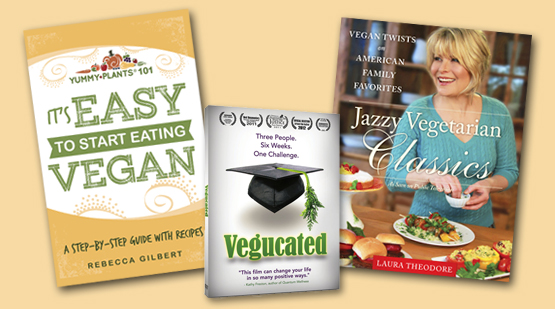 Win a copy of Vegucated, Jazzy Vegetarian Classics, and It's Easy to Start Eating Vegan!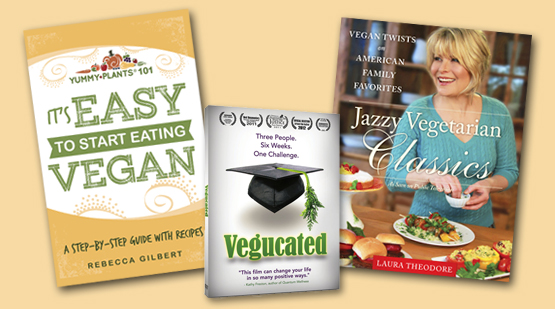 The holiday season has arrived and there is so much to be grateful for: let's celebrate with a giveaway!  This Thanksgiving celebrate a joyful, compassionate holiday with a trio of fabulous vegan items.
Enter to win:
A signed copy of the fabulous cookbook Jazzy Vegetarian Classics by Laura Theodore, the Jazzy Vegetarian.
Laura will teach you how to prepare yummy classic dishes that keep all the animals safe. She puts a compassionate and healthy twist on tried-and-true favorites!
It's Easy to Start Eating Vegan by Rebecca Gilbert, founder of yummyplants.com.
Would you like to start eating more plant-based meals but don't know how to begin? It's Easy to Start Eating Vegan is a step-by-step guide with recipes to help you get started today.  In an hour, you'll have the tools you need to begin making the switch. It really is easy!
Vegucated is an award-winning documentary that "can change your life in so many positive ways." It was created by long-time activist Marisa Miller Wolfson, and produced by 20+ year vegan Demetrius Bagley.
Here's how to win: leave a comment on this photo link and tell us what you're grateful for this season. Deadline to enter is Friday, November 14th at 12:00 midnight, PST. The winner* will be announced on the 11/19 Jazzy Vegetarian radio show when Laura Theodore and I will be discussing delicious dishes for a vegan Thanksgiving table! 
*We can only ship to US Residents at this time.
Wishing you a love-filled, wonderful Thanksgiving!