Vegan Travel to Antarctica, the White Continent!
Vegan Antarctica! Yes, you can travel all the way to Antarctica as a vegan. Read on for my vegan adventure to Antarctica! 
---
What images spring to mind when you hear the majestic word "Antarctica," the rarely visited White Continent?  Ancient? Awe-inspiring? Avalanches?  All of these words inspired me to visit this pristine and exotic land.  (And yes, I was lucky enough to experience a thundering, rumbling, avalanche!)  But none of the videos, stories, or images in my mind prepared me for the magic and beauty that I experienced on Antarctica's frozen shores.
Antarctica appears to be a frozen continent, yet its summertime reveals a joyful spirit that is teaming with life. Penguins are hatching, whales and seals are greeting human visitors, and the sea is alive with krill, the main food source of the seals and whales.




There are no land animals living on Antarctica.  All life revolves around the sea.  Even the adorable, waddling penguins spend most of their lives in the sea, coming up on land only to breed.  (Contrary to popular belief, there are no polar bears!  Polar bears live in the Arctic).
If you visit Antarctica, you will see lots of penguins.  After my face-to-face encounters with the adorable tuxedo colored cuties, I am in love!  And not just with the penguins….  I was touched by the  loving welcome and curiosity of the seals and the whales, too.  Whales came right up to the zodiac (a lightweight inflatable boat)  to visit, penguins waddled over to greet me, and seals squiggled along towards me without any fear of my presence.  Free of fear.  Imagine.  This was one of the most beautiful memories of my time in Antarctica.
Memories of a lifetime:
#1.  The Penguins:   The day I arrived on the western Antarctic peninsula, it seemed that the land herself welcomed us!  Bright sunshine against a clear blue sky melded into a glistening white world.   Groups of penguins were romping in the sea, playing on land, and eating snow. Several waddled down with their adorable unsteady penguin gait to see these strange yellow-jacketed creatures who had come to visit.
Penguins are majestic in the water, which makes sense because they spend most of their lives in the water. They swim elegantly and pop up effortlessly onto icebergs. Yet when on land, they topple, they waddle, they carefully hop, hop testing the surface with each "toe" of their webbed feet.  Penguins  move from rock to rock with arms outstretched and tilted, as if they're pushing against an imaginary wall to help support them. They are such delightful creatures! I could watch them for hours and never be bored.
#2.  Zodiac Cruising: Imagine sitting in a raft and whirring around the Southern Ocean surrounded by the gleaming blue of icebergs!  What an amazing experience!   While we cruised and enjoyed the ice sculptures, a pair of Minke whales (the smallest of the Baleen whales) spotted our zodiac and came over to play. Whales can sense the zodiacs from large distances; if they don't want to interact with tourists, they can stay well hidden. This playful pair swam over to about 5 feet away from the zodiac. One waved a fin in greeting, spouted, and "called" in her deep, melodious song.  She swam beside us with her partner for about 15 minutes before showing us her tail and then the two took a deep dive into the open Southern Ocean.




#3.  Camping:  I camped in a bivy sack on the continent of Antarctica, accompanied by 59 other adventurers, two sea lions, a whale and cohort of curious penguins.  My reward:  I got to spend from 9 P.M. until 6 A.M. the next morning with the animals, the southern ocean, and the peaceful, beautiful mountains.   (And this was a reward!  Tourists in Antarctica live on a boat. There are no hotels or tourist accommodations on the continent.  Research stations yes, hotels no.  Only about 100 of us were ever on the land at one time and for less than two hours except the night we camped out.)
During the summer in the southern hemisphere, we had 24 hours of sunlight!  The sun dimmed a bit and then brightened; there was no sunset!  I was able to take photos and video without a flash… at midnight. I slept on the snow with the penguins and sea lions, while being serenaded by the snap, crackle and pop sound of the melting summer ice.  Of course, I didn't sleep much.  I spent the night swapping stories with three new friends, crunching around in the snow, taking photos, patrolling for whales, and giggling like a teenager at an all night slumber party.
It was a magical night.  For the rest of my life, I will remember this experience.  It was the perfect opportunity to enjoy the serenity and beauty of the continent.
Visit Antarctica:
Get ready for the vegan adventure of a lifetime!  It is absolutely possible to visit Antarctica as a vegan.  The tour company I used, Quark Expeditions, ensured that there were excellent vegan meals throughout the tour.  They also use equipment (boots and parkas) made from animal-free materials. In addition, Quark  uses carbon offsets to create carbon neutral voyages.  To ensure that Antarctica remained pristine, the company made sure we carried all equipment away from the land after each excursion.
How to get there:
The most common route to Antarctica, because it's the shortest, is to leave from the quaint port town of Ushuaia, Argentina (located just 1000 km from the Antarctic Peninsula).  Travelers arrive into Buenos Aires, and then take a 3-hour flight further south to Ushuaia.
Ushuaia is located in a region called Tierra del Fuego. Visitors to Antarctica often spend a few days hiking in Ushuaia first to enjoy its beauty. (See the videos!)   Next comes brave travel by boat across the Drake Passage, just 1000 km, and then that magical moment when you step onto the Antarctic Peninsula!  (Note: the Drake Passage has some of the roughest seas in the world!  Bring your Dramamine!)
If you're traveling with Quark, once you get on the boat, there will be plenty of vegan food available.  But let's talk about what provisions you'll need to make it through Ushuaia and onto the boat.
Ushuaia:
Ushuaia is known in Spanish as "Fin del Mundo."  It's the southern-most civilization in the world!  Items that we think of as common, like soy milk or almond milk, are actually quite difficult to get there. Because of the harsh climate, few vegetables  grow there.  Much of Ushuaia's food is imported in from Buenos Aires or other regions.  While I was in Ushuaia, I discovered that most folks there had a very limited knowledge of a vegan lifestyle.  So they truly had no idea what to offer for a 100% plant-based meal.  In fact, in my hotel, I was the first vegan the staff had ever met!  The staff and management at Hotel Tolkeyen were wonderful.  I would absolutely stay there again.  Just let Roberto know you're vegan and he will take great care of you!
What food do you need to bring? 
There are definitely provisions I would recommend bringing to tide you over until you can get on the boat. Some domestic flights within Argentina have a 30ish pound weight limit, so read the fine print on your ticket and keep this in mind when you're packing food.  All the foods I am recommending are lightweight and nutritious; if they need to be cooked, you can make them with boiled water.
Small instant oatmeal packages
Nuts and dehydrated vegan camping foods
Powdered soy or other non-dairy "milk" (or liquid in aseptic packaging)
Protein bars
By the time you visit, things may have changed and vegan food may be more easily available (I hope so!), but if not, the foods I just mentioned above should help you during your stay in Ushuaia.  I was VERY grateful that I had brought lots of Raw Revolution bars and some So Delicious Coconut milk.
I made a few videos to document the vegan Antarctica adventure starting from the airport in the US, to Buenos Aires and throughout the journey all the way to the end of the Antarctic voyage.  If you'd like to share in the adventure, you can watch the  Antarctica videos on the Yummy Plants YouTube channel.
In Antarctica I found a magical land so pristine, so teeming with life, and so fragile, that I came away with a feeling of wonder and awe – and a lasting feeling of responsibility to do my best to help preserve this special place.  If you'd like to learn more about how to help the animals of Antarctica and the land itself, here are some charities that work specifically to protect the Southern Ocean and its animals:
Antarctic Heritage Trust: https://www.ukaht.org/
Antarctica and Southern Ocean Coalition: https://www.asoc.org/
Final thought: In Ushuaia, it's not common to think of grilled vegetables and rice as a meal, so staff there may not even think to suggest this to you as a possible entree.  When you ask about the possibility of basic plant-based meals, you'll be spreading the word about a vegan lifestyle and making it easier for all the vegans who come next!
If you enjoyed reading about vegan Antarctica, visit the recaps from all my vegan travels including Easter Island!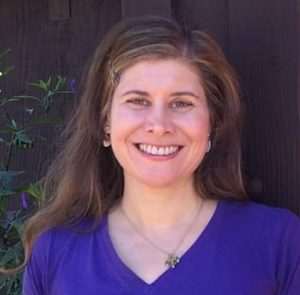 Rebecca Gilbert is the founder of Yummy Plants and the author of It's Easy to Start Eating Vegan. She's a former competitive figure skater whose switch to a vegan diet healed her chronic joint pain. Rebecca has been a featured speaker at events including the World VegFestival in San Francisco, Vegetarian Summerfest, the New York City Vegetarian Food Festival, and Paris Vegan Day. She has presented on live television and given corporate talks. Book Rebecca to speak at your organization