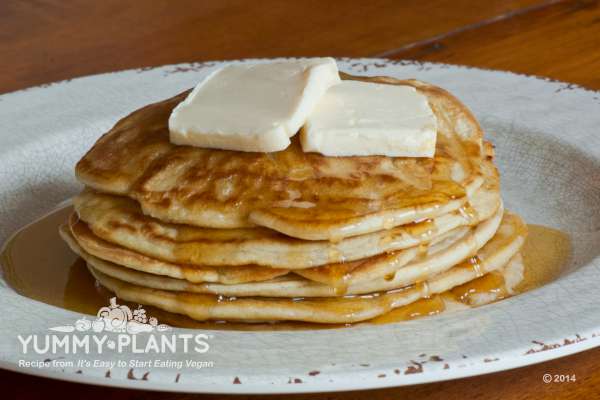 Vegan Pancakes
Who doesn't love vegan pancakes??! Start your day with a fresh, hot breakfast in just 10 minutes!
The smell of pancakes frying, waiting with anticipation for the browned goodness to reach my plate… slathering them with butter and maple syrup… YES, I can still eat pancakes as a vegan :) And you can too! The ingredients are just a bit different. 
Chef's note: As a variation, top the pancakes with fresh berries or add vegan chocolate chips into the batter.
This recipe is reprinted with permission from my book, It's Easy to Start Eating Vegan.
Find more easy vegan recipes like vegan pancakes, in the complete Yummy Plants recipe collection. You can also find vegan gluten-free recipes!
Are you a new vegan? Learn the vegan basics with these articles:
You'll learn about easy egg and dairy substitutions, vegan protein sources, and how to stock your pantry. For more detailed information, pick up a copy of It's Easy to Start Eating Vegan.

Pancakes with Maple Syrup
Servings: 8 pancakes
Ingredients
1 cup flour
1 tablespoon maple syrup
2 tablespoons baking powder
1/8 teaspoon salt
1 cup non-dairy milk
2 tablespoons vegetable oil
Instructions
Combine the flour, baking powder, and salt in a large bowl. Stir in the milk, maple syrup and oil until batter is smooth.

Drop 1/4 cup of batter at a time onto a hot, oiled griddle over medium high heat. When bubbles appear on the surface of the pancake (after approximately 3 minutes), it's time to flip. Cook the other side for another 2 minutes.
Hope you enjoy this easy vegan recipe!
Share your experience
If you run out of time to cook and guests are coming soon, visit the Food Reviews section to find a yummy store-bought packaged vegan meal that is tasty and quick to prepare. I only list vegan foods that taste good, so all of the products are Yummy Plants Approved!