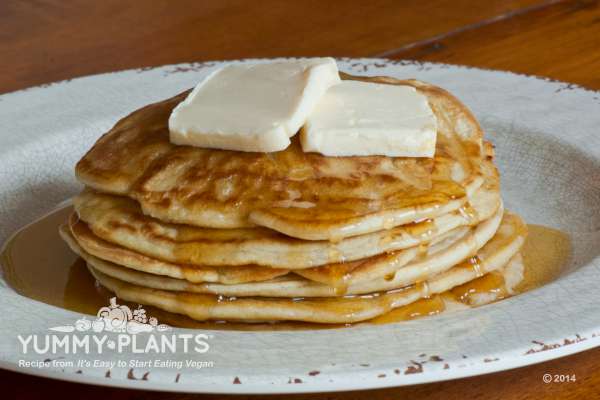 Pancakes with Maple Syrup
Who doesn't love vegan pancakes??! Here's a fresh, hot breakfast to start your day with a smile!
Reprinted with permission from It's Easy to Start Eating Vegan by Rebecca Gilbert.

Pancakes with Maple Syrup
Servings: 8 pancakes
Ingredients
1 cup flour
1 tablespoon maple syrup
2 tablespoons baking powder
1/8 teaspoon salt
1 cup non-dairy milk
2 tablespoons vegetable oil
Instructions
Combine the flour, baking powder, and salt in a large bowl. Stir in the milk, maple syrup and oil until batter is smooth.

Drop 1/4 cup of batter at a time onto a hot, oiled griddle over medium high heat. When bubbles appear on the surface of the pancake (after approximately 3 minutes), it's time to flip. Cook the other side for another 2 minutes.
Hope you enjoy this easy vegan recipe!
Share your experience