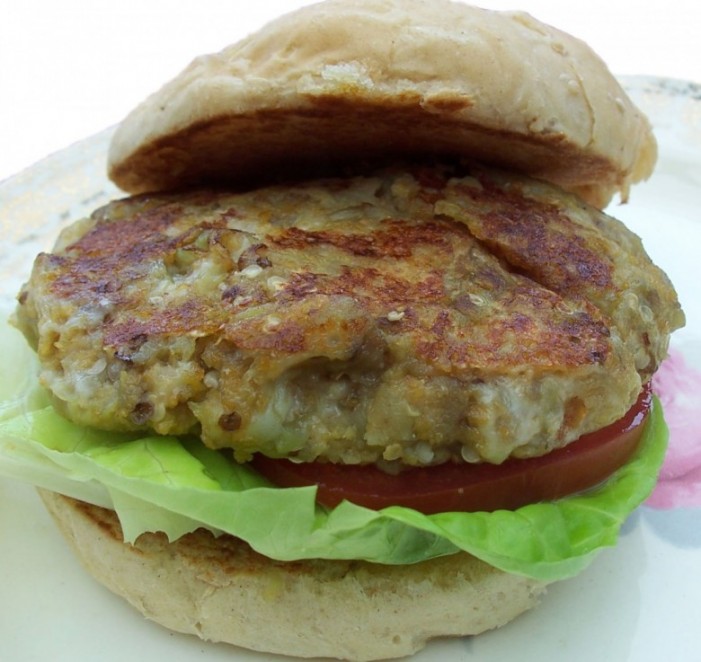 Eggplant Patties
TIPS:  The cool crispness of the lettuce differs a nice contrast to the warm softness of the interior of the patty.
Are you following a vegan diet or a vegan, gluten-free diet?  This recipe is for you!  This vegan, gluten-free recipe is an original creation by Chef Sarah Elise of The Inspired Cookie, home of delicious vegan AND gluten-free treats. Thank you for sharing, Sarah!

Eggplant Patties
Servings: 4
Ingredients
4 cups peeled eggplant finely chopped
3/4 cup water
1/2 teaspoon salt
1/4 cup cornflake crumbs
1/4 cup shredded vegan cheese any flavor
1/4 teaspoon salt
1/2 teaspoon onion powder
1/2 teaspoon garlic powder
1 Tablespoon Fresh parsley finely chopped
1-2 Tablespoons olive oil
1 leaf Boston Bibb lettuce
1 slice of tomato
Salt and Pepper to taste
Instructions
Pour water and 1/2 tsp salt into a medium pot. Bring to a boil and add the chopped eggplant.

Lower heat to medium and steam for about three minutes, until the eggplant has softened and most of the water is absorbed.

Drain in a colander and use a large spoon to press the eggplant; squeeze all excess liquid out of it. Add in the remaining ingredients and mix thoroughly.

Form the mixture into 2 inch round balls and flatten to about 1/2 inch thickness.

In a non-stick frying pan add 1 tablespoon of olive oil over medium heat. Grease your hands. Then place patties into the pan until the bottom has a crispy golden outer layer. Flip and brown on second size.

Serve on your choice of bun with Bibb lettuce and a fresh slice of tomato.
Hope you enjoy this easy vegan recipe!
Share your experience