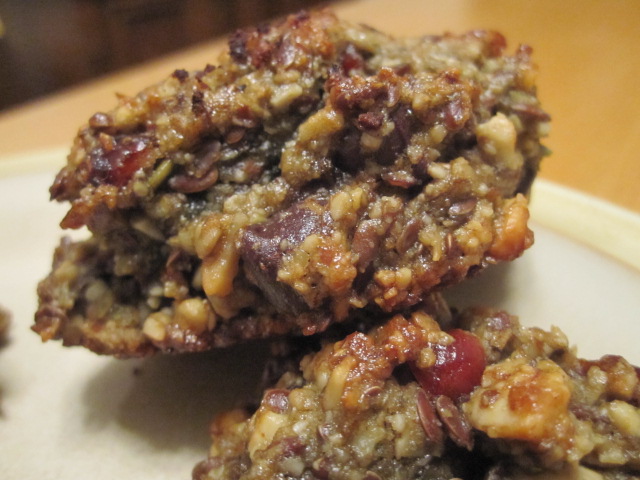 Wheat-free Chocolate-Cranberry Cookies with Mixed Nuts
These wheat-free, gluten-free vegan cookies are super easy to make… and they're packed with protein for a great snack too!

Wheat-free Chocolate-Cranberry Cookies with Mixed Nuts
Servings: 24 cookies
Ingredients
2 cups of sliced bananas
½ cup of dairy-free dark chocolate chips Sunspire makes a delicious organic version!
¼ cup of dried cranberries
¼ cup of raw unsalted pumpkin seeds
¼ cup of raw unsalted sunflower seeds
¼ cup of flaxseeds
¼ cup of raw unsalted almonds
¼ cup of raw unsalted cashews
¼ cup of maple syrup
2 tablespoons of safflower oil
1 teaspoon of vanilla extract
½ teaspoon of baking soda
1 teaspoon of raw apple cider vinegar I like Bragg's brand
Dash of sea salt
Instructions
Preheat the oven to 400 degrees F.

Place the pumpkin, sunflower and flax seeds into your food processor or Vita-Mix. (Note to Vita-Mix users: if you have a dry container, use it. The dry container works much better than the wet container for this part of the recipe.) Process about 10 seconds or until coarsely ground.

Essentially you're making a "flour" base with the pumpkin and sunflower seeds. Place the nut flour into a large mixing bowl.

Add the almonds and cashews to your machine. Pulse chop 6 – 10 times. The idea is to have nuts pieces that are large enough to see and taste, yet small enough to be mini-pieces. They should be chopped nuts when you're finished processing. Add the chopped nuts to the large mixing bowl. Add the chocolate chips and cranberries to the mixing bowl.

Place the banana, maple syrup, safflower oil, vanilla and baking soda in your machine. Process for about 10 seconds, then add the apple cider vinegar. Process for an additional 10 seconds. Transfer to the mixing bowl and stir well. Note: If you pour the vinegar into the baking soda mixture before it is blended, the vinegar will make the mixture begin to foam. (Think of your second grade science class.)

If you decide not to use a non-stick cookie tray, lightly oil the tray or use parchment paper or aluminum foil. Spoon out the cookies, leaving enough space between them for the cookies to spread out. Aim for 2" between cookies. You'll most likely need 2 trays.

Bake for 15 minutes on the top rack, probably 13-14 on the bottom rack, or until the bottom edges are starting to brown. Allow to cool for a few minutes, then transfer to a wire rack.
Hope you enjoy this easy vegan recipe!
Share your experience