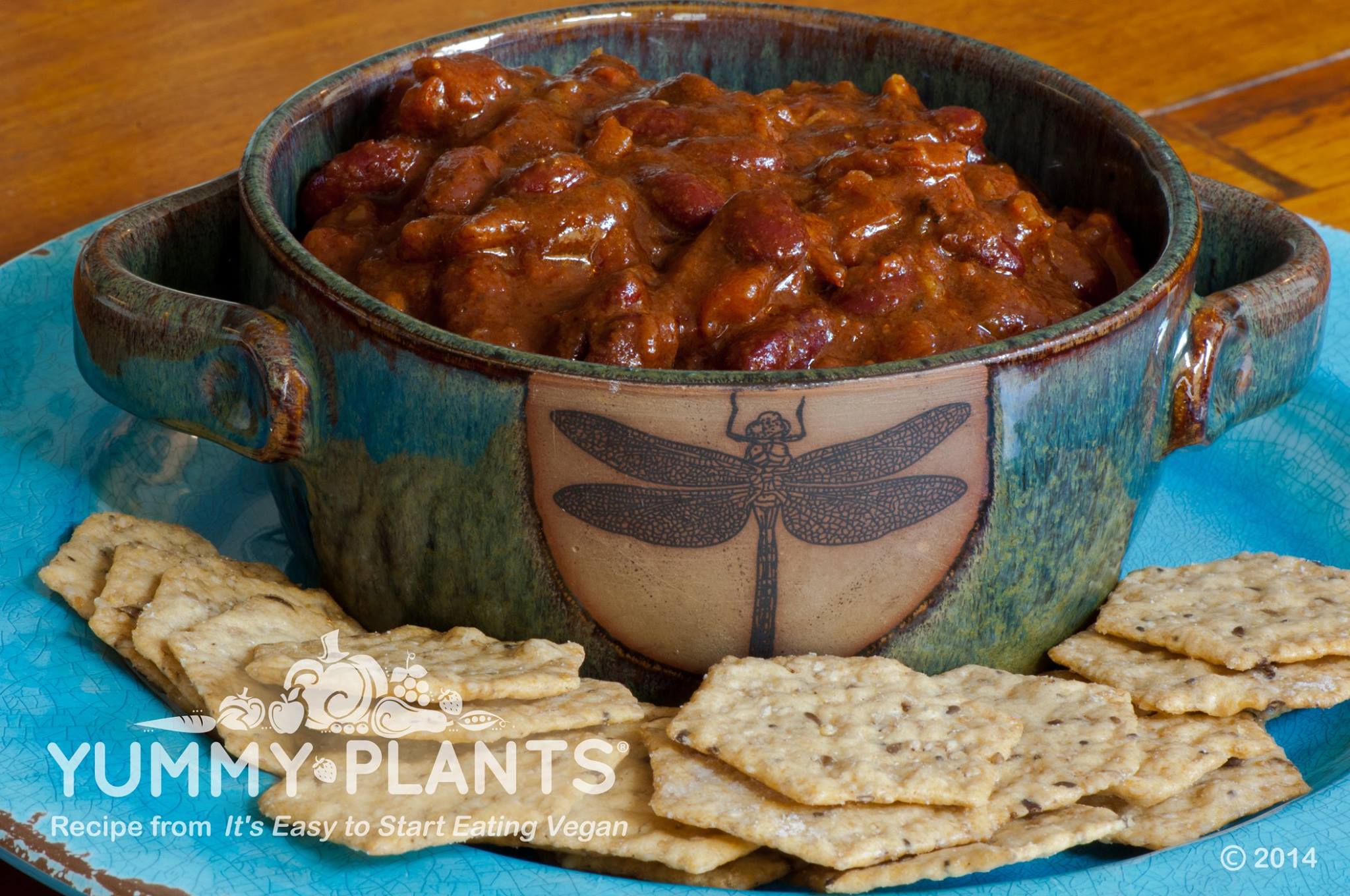 Vegan Chili Recipe
This vegan chili recipe is super easy to make and stores well for next-day lunches. Serve with crackers or over rice. Perfect for Meatless Monday or any day of the week!
Optional: Add a "meaty" texture with a faux beef product (Beyond Meat Beefy Crumbles works well). Melt some vegan cheese on top (Follow Your Heart melts well).
Chef's note: For a smoky flavor, add 2 teaspoons of smoked paprika in at the very end.
This vegan chili recipe is reprinted with permission from It's Easy to Start Eating Vegan by Rebecca Gilbert. 

Vegan Chili Recipe
Servings: 4
Ingredients
1/2 yellow onion diced
1 clove garlic minced
1/2 large bell pepper diced
1 tablespoon red pepper flakes
1 teaspoon cumin
14 oz. of diced tomatoes
2 tablespoons of tomato paste
1 teaspoon of oil
15 oz. can of kidney or pinto beans
1 cup of water
Salt and pepper to taste
Optional: 1 package of vegan beef
Optional: top with vegan cheese
Instructions
Heat 2 tablespoons of oil or water in a medium-sized sauce pot. Add the onions and peppers. Saute on a low-medium heat until soft (about 10 minutes).

Add garlic, spicy pepper flakes, and cumin. Cook for 2 minutes until garlic turns golden. Add optional vegan beef. Cook for two more minutes until meat is browned.

Add cup of water, tomato paste, diced tomatoes, and kidney beans. Stir until well combined. Bring to a boil, then simmer for 10 minutes or until desired thickness is reached. Add salt and pepper to taste. Optional: Top with vegan cheese.
Hope you enjoy this easy vegan recipe!
Share your experience