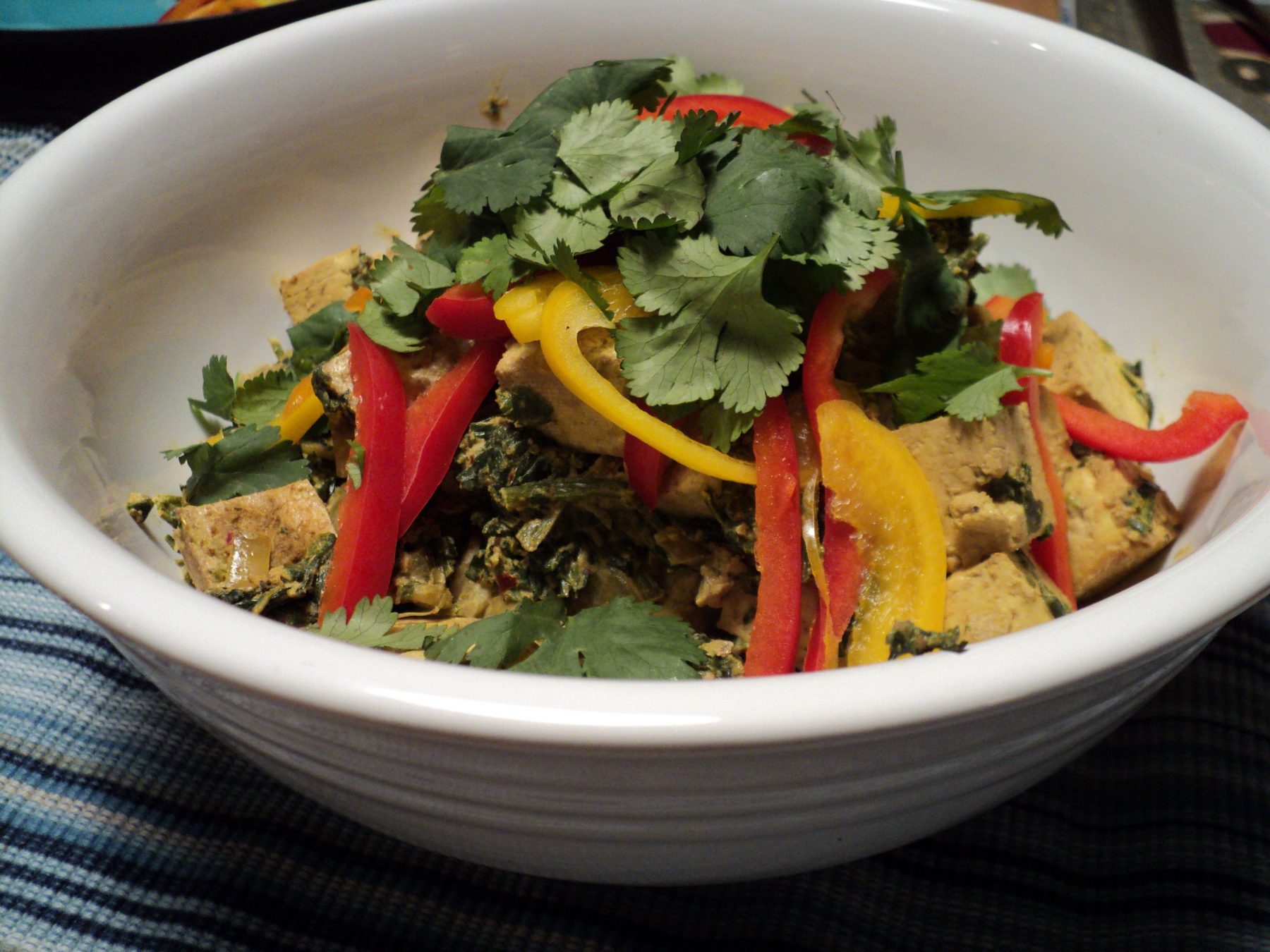 Tofu Saag with Coconut Milk

Tofu Saag with Coconut Milk
Servings: 4
Ingredients
1 pound Nasoya cubed extra-firm tofu
2 ½ Tablespoons soy sauce** May substitute wheat-free tamari if following a wheat-free diet
1 ½ Tablespoons canola oil
1 small yellow onion chopped
4 large garlic cloves minced
1 Tablespoon fresh ginger peeled and minced
1 pound frozen spinach thawed
1 Tablespoon curry powder
1 Tablespoon caraway seeds
1 teaspoon ground cumin
½ cup So Delicious unsweetened coconut milk
2 teaspoons ground coriander
1 teaspoon Himalayan sea salt
Pinch of crushed red pepper
¼ cup of sliced red and yellow peppers
¼ cup of fresh cilantro for garnish
¼ cup minced fresh cilantro for garnish
Instructions
Preheat the oven to 350 degrees Fahrenheit. Spread oil on a baking sheet; place the tofu and soy sauce on the sheet to bake. Allow the soy sauce to absorb into the tofu for 5 minutes before placing into the oven. Bake for 15 minutes. Remove from oven and let cool.

While the tofu is baking, place the canola oil, onion, garlic and ginger in a medium pan and sauté for 5 minutes over medium heat, stirring frequently. Reduce heat to low, add the spinach, and cook for another 5 minutes, stirring occasionally.

Add the tofu and soy sauce liquid from the baking sheet, add the coconut milk and spices. All ingredients should now be in the pan, except for the sliced peppers and cilantro, which will be used as a garnish. Cook for a final 5 minutes.

Plate individually and garnish.
Hope you enjoy this easy vegan recipe!
Share your experience