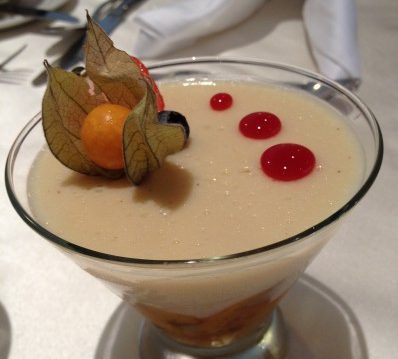 Soy Milk Custard Over Peach Compote
This soy milk custard vegan dessert recipe is courtesy of Chef Jeffrey Borg of the Radisson Blu Resort and Spa, Golden Sands in Malta.  I had this creamy vegan dessert while I was on vacation and was so delighted that I had to ask for the recipe!  It's beautiful, sophisticated, and very easy to prepare.  This soy milk custard is a lovely dessert for a vegan dinner party.
For more easy recipes, visit the Yummy Plants vegan recipe collection. There are vegan gluten-free recipes too!

Soy Milk Custard Over Peach Compote
Servings: 4
Ingredients
Peach compote
4 peaches cut into wedges
200 g sugar (7 oz)
Custard
500 ml soymilk (unsweetened) (16.9 oz)
100 g sugar (3.5 oz)
35 g cornstarch (2.3 Tablespoons)
1 tsp vanilla
Instructions
For the compote:
Cook peaches and sugar on low heat, stir occasionally until soft – about 10 minutes.
For the custard:
Add 2/3 of the milk, all the sugar and vanilla to a small pot. Bring to a boil over medium heat (until it boils about 10 minutes) and immediately lower the heat to simmer.

Combine the remaining soy milk and cornstarch and mix until smooth. Then add the mixture to the simmering pot. (Note: it's important to mix the milk and cornstarch together before adding to the mixture. Don't add the ingredients separately).

Stir frequently until the mixture boils and becomes thick.

Place the peach compote on the bottom of a cosmopolitan glass and pour the custard on top. Top with seasonal berries.
Hope you enjoy this easy vegan recipe!
Share your experience