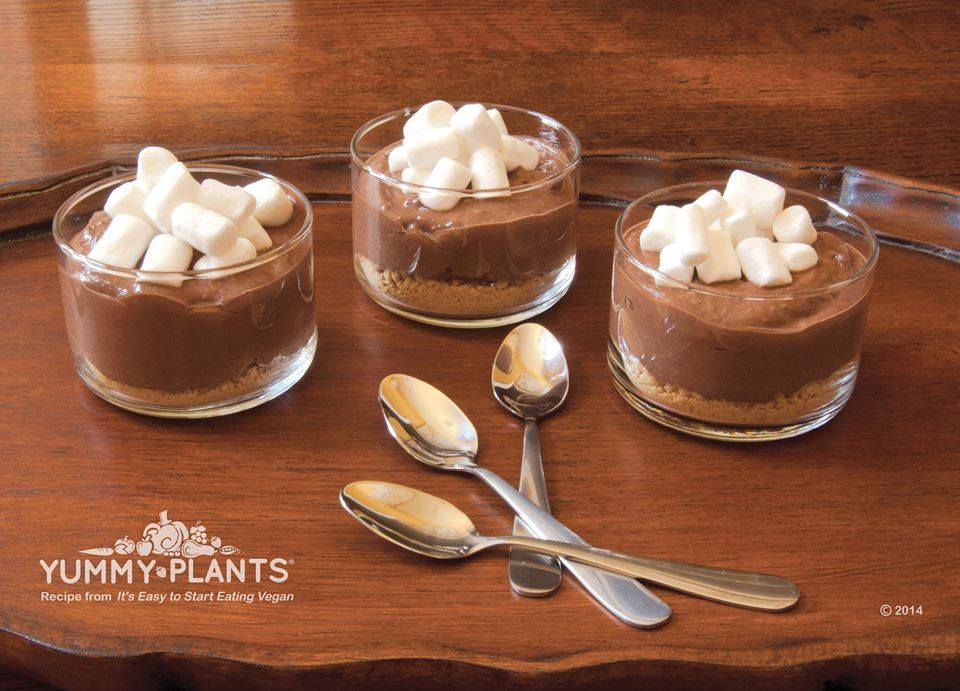 S'mores Pudding
Do you miss S'mores and campfire days from the Girl Scouts? Try this easy vegan dessert recipe for S'mores Pudding!
It takes just 10 minutes to make. Technically, we should wait 30 minutes for the pudding to thicken up in the fridge, but the recipe works just fine to eat right away :)
Note: If you can't find vegan marshmallows or vegan/ gluten-free graham crackers in your area, you can get them online through Vegan Essentials.
Here's a video to show you how to make it!

S'mores Pudding
Servings: 10
Ingredients
1 package silken or lite firm tofu drained
¾ cup unsweetened non-dairy milk *I use So Delicious unsweetened coconut milk
¾ cup vegan chocolate chips
¼ cup vegan mini-marshmallows use extra for garnish
¼ cup maple syrup
4 tablespoons unsweetened cocoa
6 vegan graham cracker rows 2 squares each
Instructions
Crumble 4 graham cracker rows using your hands, a rolling pin, or pressure from a glass. Sprinkle into individual dishes to create the bottom layer of the S'more. Set aside.
Hope you enjoy this easy vegan recipe!
Notes
Chef's notes:
If you can't find mini-marshmallows, just use 4 regular-sized ones. If using silken tofu, drain and then let the tofu sit for about 15 minutes. Drain again. This helps to make sure all the water is gone.
Share your experience