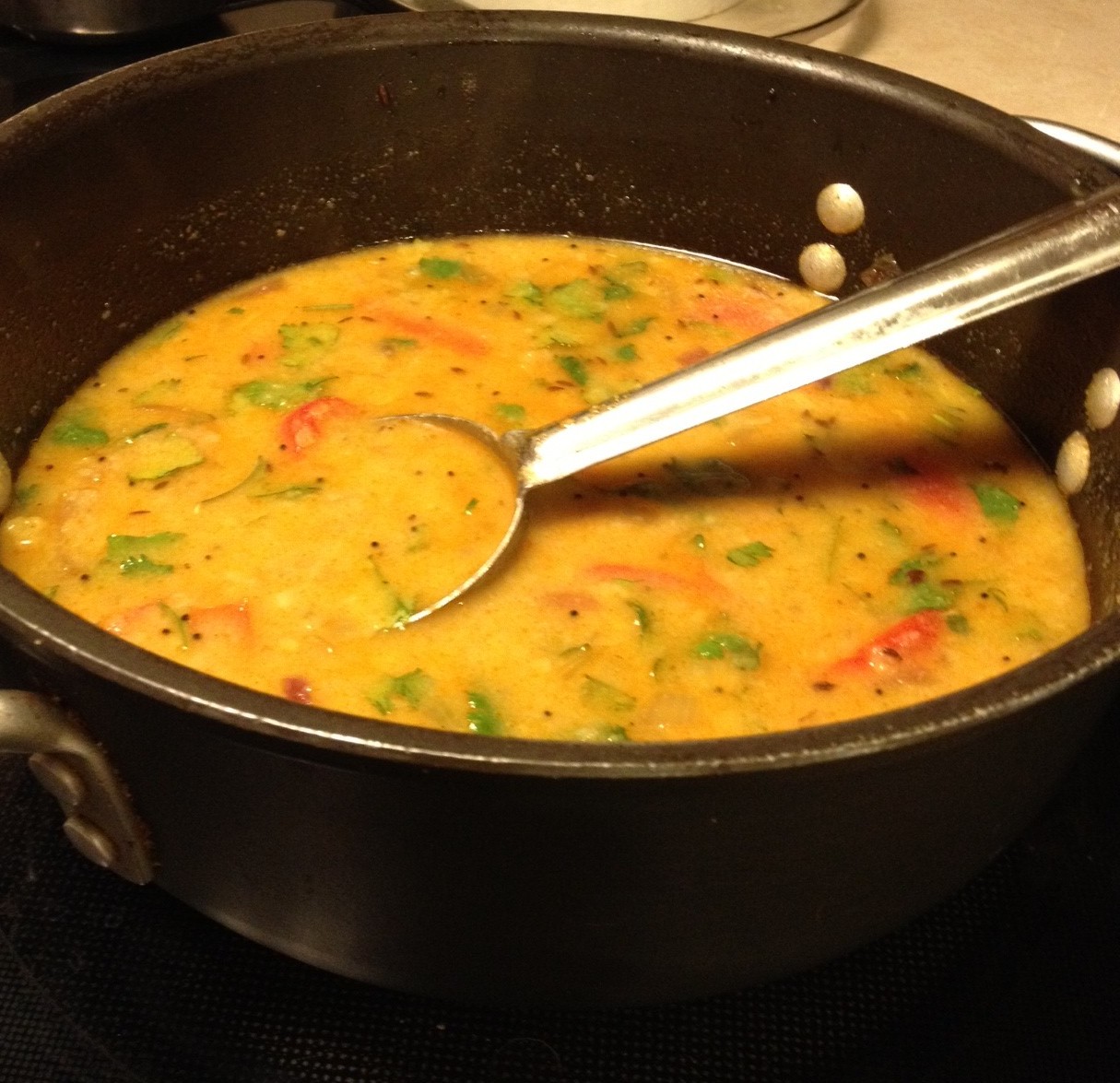 Sambar
I love this easy vegan sambar recipe. Thanks to Mrs. R. for sharing special recipes for homemade sambar. Pair with a dosa, or pesarattu, for a super yummy south Indian meal! (Don't forget thechutney and potato masala filling to accompany the dosa.)
Note: You may find toor dal in a regular supermarket near the rice and beans.  If you don't live near an Indian store, you can buy sambar powder online.
For more easy recipes, visit the entire Yummy Plants vegan recipe collection. Are you a beginner vegan? Visit the Start Here section or pick up a copy of It's Easy to Start Eating Vegan. 
To learn more about packaged vegan foods you can find online or in most stores, visit the Food Reviews section.

Sambar
Servings: 6
Ingredients
½ cup toor dal cooked and completely disintegrated into a paste
½ Tablespoon sambar powder
½ teaspoon chili powder
½ teaspoon mustard seeds
½ teaspoon cumin seeds
1 teaspoon salt
¼ teaspoon tamarind paste or lime juice
3 Tablespoons oil
1/8 cup of cilantro
½ cup onion chopped
¾ cup vegetables chopped (Use any veggies you have on hand. Some favorites are green pepper, turnips, carrots, beans, tomatoes)
Optional: 2 cloves of garlic chopped
Instructions
Make the dal paste. Cook ½ cup toor dal with 4 cups of water. Cook for approximately 45 minutes until the lentils have completely disintegrated and much of the water has boiled away. It should be a thick paste. (See inset photo of the sambar paste with the veggies).

Make the sambar "soup." Heat the oil in a pan. To the hot oil, add the mustard seeds and cumin seeds. Once the mustard seeds have split and the cumin seeds turn brown, add the onions, veggies and cilantro. Add the salt, sambar powder, chili powder, and turn the heat to low.

Add enough water to barely cover the vegetables, cover the pan with a lid, and simmer until the vegetables are cooked.

Add the cooked dal paste to the vegetable soup. Add a small amounts of water to incorporate the dal paste. The mixture should be thin, but not watery. If you add too much water, you can boil it out. Add tamarind paste (or lime juice) and simmer for 3-5 minutes.

Serve with the dosa and chutney. Conserve remainder in the fridge. It will keep 3-5 days. You can also freeze the leftover sambar for later use.
Hope you enjoy this easy vegan recipe!
Share your experience