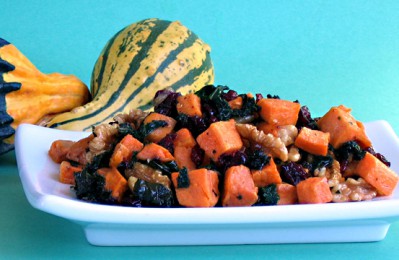 Roasted Sweet Potatoes Recipe & Kale with Cranberries
Streaked with the colors of autumn, this dish made with roasted sweet potatoes and kale tastes as good as it looks. It makes a perfect side dish for the Thanksgiving table. This roasted sweet potatoes recipe was created by Robin Robertson. Used with permission.
This recipe brings together seasonal fall ingredients with sweet potatoes, kale, and cranberries. You'll have the feelings on Fall on a plate :) 
Thanks so much to Robin Robertson for sharing this Roasted Sweet Potatoes Recipe for a vegan Thanksgiving recipe swap!
For more recipes, visit the Yummy Plants vegan recipe collection.
Robin Robertson has worked with food for more than twenty-five years as a restaurant chef, cooking teacher, and food writer. A longtime vegan, Robin is the author of numerous cookbooks, including the best-selling Vegan Planet, 1,000 Vegan Recipes, Vegan Fire and Spice, Vegan on the Cheap, and Quick-Fix Vegan.  Her latest book is Fresh from the Vegan Slow Cooker.
Robin writes the Global Vegan column for VegNews Magazine and has also written for Vegetarian Times and Cooking Light, among others. Visit her Global Vegan Kitchen website.  You can keep up to date with Robin on her blog. She can also be found on Facebook and Twitter.

Roasted Sweet Potatoes and Kale with Pecans and Cranberries
Servings: 4
Ingredients
1/2 pounds sweet potatoes
3 medium shallots halved lengthwise
1/2 teaspoon dried oregano
Salt and freshly ground black pepper
Olive oil
6 large kale leaves washed and dried
1/3 cup toasted walnut or pecan pieces
1/3 cup sweetened dried cranberries
Instructions
Preheat the oven to 425 degrees F. Peel the sweet potatoes and cut them into 1/2-inch dice and transfer to a large bowl. Cut the shallot halves into thin slices and add to the bowl along with the oregano.

Season with salt and pepper, drizzle about 1 tablespoon of olive oil over the sweet potato mixture and toss to coat.

Spread the mixture in a single layer on an oiled rimmed baking sheet and bake for 30 minutes or until the potatoes are tender and lightly browned, turning once about halfway through.

Roll the kale leaves into a tight roll and cut crosswise into thin ribbons. Transfer to a bowl, drizzle with a little olive oil and season with salt and pepper.

Spread the kale on an oiled baking sheet and place in the oven when the sweet potatoes are about halfway done roasting until the kale is crisp and lightly browned, about 15 minutes.

To serve, transfer the sweet potatoes to a bowl, add the nuts, cranberries, and kale and sprinkle with a few grinds of black pepper. Toss gently to combine. Serve hot.
Hope you enjoy this easy vegan recipe!
Share your experience