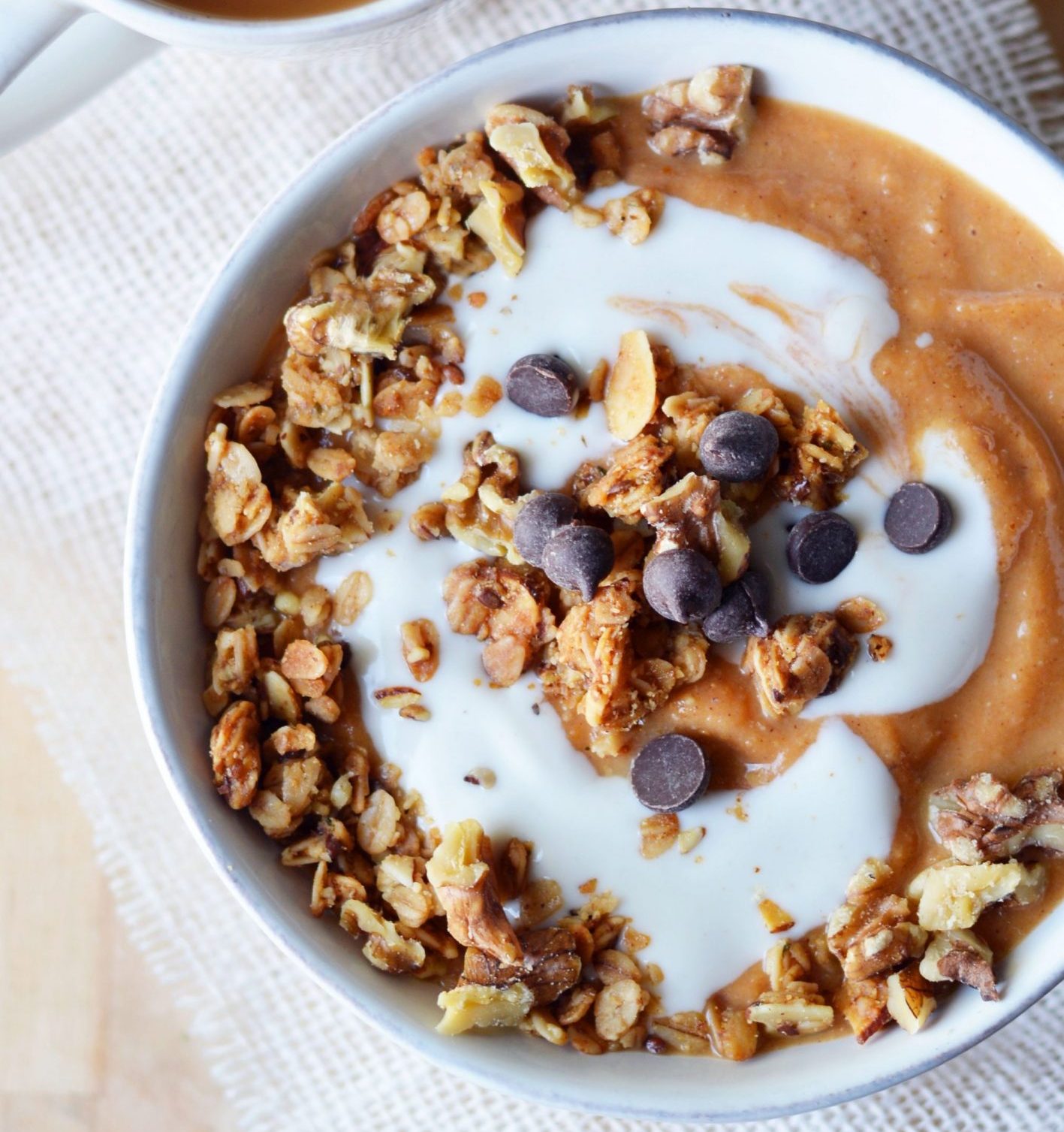 Pumpkin Pie Smoothie Bowl
This pumpkin pie smoothie recipe is reprinted with permission from The Colorful Family Table: Seasonal Plant-Based Recipes for the Whole Family by Ilene Godofsky Moreno and BenBella Books.
Ilene says, "My cravings for "pumpkin spiced everything" hit like clockwork every year on the first day of September, even if the temperatures outside still feel like summer. This smoothie makes the perfect breakfast on those early-fall days when you are eager to embrace the flavors of the season but are still wearing shorts and a tank top. Plus, it's a double win because your kids will never guess that cauliflower is the secret ingredient that makes this smoothie extra creamy."
This quick and easy pumpkin pie smoothie recipe is a treat for Fall or any time of the year!
If you love pumpkin, here are some other vegan recipes you may enjoy:
And make sure to check out the recipes in the Vegan Thanksgiving Recipes section… because these delicious seasonal Fall recipes satisfy for Thanksgiving or any time!
For more easy recipes, visit the entire Yummy Plants vegan recipe collection. Are you a beginner vegan? Visit the Start Here section or pick up a copy of It's Easy to Start Eating Vegan. 
To learn about packaged vegan foods you can find online or in most stores, visit the Food Reviews section.

Pumpkin Pie Smoothie Bowl
Quick and easy bowl for breakfast or a snack
Servings: 4
Ingredients
Smoothie
2 frozen bananas
2 cups nondairy milk
1 cup frozen cauliflower florets
1 cup pumpkin puree
2 tbsp maple syrup
2 tbsp ground flaxseed
1 tbsp pumpkin pie spice
½ tsp vanilla extract
dash salt
Optional toppings
¼ cup nondairy yogurt
¼ cup granola
¼ cup chopped nuts
¼ cup vegan chocolate chips
Instructions
Combine all the smoothie ingredients in a blender and blend until thick and creamy.

Transfer the mixture to bowls. Add your desired toppings and enjoy with spoons.
Hope you enjoy this easy vegan recipe!
Share your experience