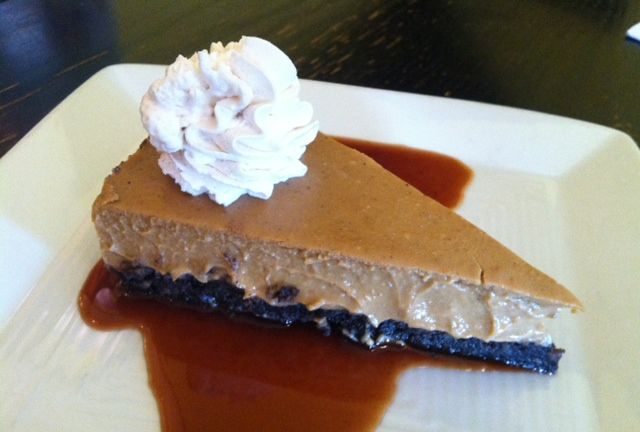 Pumpkin Pie Cheesecake
Thanks to Chef Russell Svoboda, of Great Sage in Clarksville, MD for making a vegan pumpkin pie cheesecake dessert!  This vegan pumpkin pie cheesecake is a perfect dessert for Thanksgiving or anytime :)  YUM!  Check out other great Thanksgiving recipes in our vegan Thanksgiving recipes section.

Pumpkin Pie Cheesecake
Servings: 10
Ingredients
1 1/2 cups organic pecan halves
10 ounces graham crackers
2 earth balance sticks
3 packages of Mori Nu Tofu
2 cups Florida Crystals organic
4 tablespoons organic vanilla extract
2 teaspoons ground organic nutmeg
1/2 cup arrowroot
14 ounces vegan cream cheese Tofutti
1 tablespoon guar gum
4 cans of organic canned pumpkin
Instructions
Melt Earth Balance (in microwave or pan).

Spray a circle of cake parchment that has been cut to fit 2 springform pans.

Use a food processor to blend the pecans, graham crackers and melted Earth Balance. Press the mix evenly to cover the bottoms of both round pans.

Bake at 350 degrees for 11 minutes, set aside to cool slightly.

Process remaining ingredients in a blender until smooth (usually takes about 2 minutes). Pour 1/2 the mixture into each of the two springform pans.

Put foil around each pie and bake in a water bath at 350 degrees for 70 minutes. (A large foil pan from any supermarket should work. Just make sure it is large enough to submerge the pie.) Refrigerate overnight to set. Cut each pie into 10-12 slices each. Enjoy!
Hope you enjoy this easy vegan recipe!
Share your experience