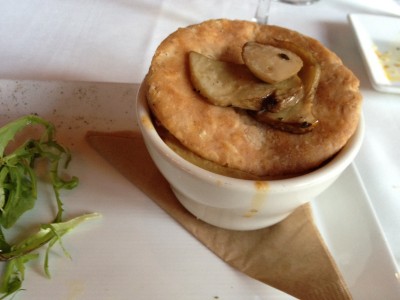 Porcini Mushroom Pot Pie from Millennium Restaurant
Thank you Stephanie Roston, for sharing this porcini mushroom pot pie recipe. I'm always looking for a good porcini mushroom vegan recipe, and this one is a winner. 
Stephanie is the sous-Chef at Millennium, the world-acclaimed all vegan restaurant in the Berkeley. I begged for the recipe after I visited Millennium. I love porcini mushrooms and her pot pie was so yummy!
If you love porcini mushrooms too, and are on the hunt for good porcini mushroom vegan recipe, try  Kamut Berries with Porcini Mushrooms and Butternut Squash.
For more recipes, visit the Yummy Plants vegan recipe collection.

Porcini Mushroom Pot Pie from Millennium Restaurant
Servings: 6
Ingredients
For Pastry Crust: 1 hour 15 minutes prep time, 12 – 15 minutes cook time (or until lightly golden)
2 cups chopped palm shortening keep chilled
2 cups all purpose flour
½ cup whole wheat flour
1 tsp salt
¼ tsp ground black pepper
3/4 cup of ice water with 1 Tablespoon of lemon juice
Pot Pie Filling: 15 minutes prep time 20 minutes cook time
1 Tablespoon olive oil
2 teaspoons minced garlic
1 cup small diced yellow onion
1 cup small diced celery
2 cups diced porcini mushrooms
2 Tablespoons minced fresh sage
1 teaspoon minced fresh rosemary
1 teaspoon fresh picked thyme
2 Tablespoons ground porcini powder toast dried porcinis for 5 minutes in a 350 degree oven and then grind
2 Tablespoons all purpose flour
3 cups vegetable stock or 2 cups vegetable stock plus 1 cup white wine
1 cup small diced carrot
1 cup small diced potato
1 cup shelled English peas
2 Tablespoons nutritional yeast
1 cup cashew cream 1/2 cup soaked raw cashews blended with ½ cup water
Salt and pepper to taste
Instructions
For pastry crust:

Place chopped palm shortening in a food processor with flour, salt, and pepper. Pulse until fat is almost completely incorporated but small pieces remain visible.

Remove contents of food processor and place in a bowl. Slowly add ice water and gently mix. Dough should be slightly sticky.

Refrigerate dough for at least one hour prior to rolling.

On a floured surface, roll pastry dough to 1/3" thickness. Cut into 3-4" rounds or as desired. Bake for 15 minutes or until lightly golden in a 350 degree oven.

For pot pie filling:

In a medium saucepan, heat oil on medium-high and fry garlic for a few seconds. Add onion and celery and cook until softened.

Add porcinis and sauté for 5 minutes or until porcinis are almost fully cooked.

Add fresh herbs and porcini powder and cook for 1-2 minutes.

Add flour and stir. Next add stock/wine. Cook until mixture slightly thickens.

Add carrots and cook until carrots are half way done and then add potato.

When potatoes are almost done, add the peas and cook for another 5 minutes.

Add nutritional yeast and cashew cream. Cook until mixture boils and cashew cream thickens. Adjust consistency with more stock as needed. Season with salt and pepper.

Place 1 cup of pot pie filling in a gratin bowl and top with a hot pastry crust.
Hope you enjoy this easy vegan recipe!
Share your experience