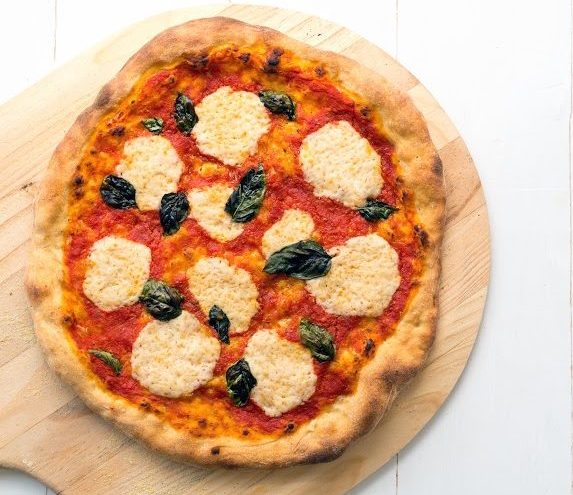 Sauce for the Perfect Vegan Pizza
Here's a super yummy recipe to make your own sauce for the perfect vegan pizza from the one, the only, The Sexy Vegan! Available in his new microbook!
Brian Patton, aka The Sexy Vegan, is creating "micro-books," teeny-tiny digital recipe downloads that can be characterized as somewhere between a blog post and an ebook. Intensely focused on one recipe or dish, each microbook sells for $0.99 on www.99publishing.com and on Amazon.com. This recipe is published with permission from his first edition:  Sexy's Best, Vol. 1: Seriously Legit Vegan Neapolitan Pizza by Brian L. Patton (thesexyvegan.com). Reprinted courtesy of 99 Publishing. Photo Credit: Jackie Sobon (veganyackattack.com).
Quick note about the ingredients. Brian says, "Sometimes it feels silly how simple a traditional Neapolitan pizza sauce is. But its simplicity, which creates a concentrated, bright tomato flavor, is one of the cornerstones of Neapolitan pizza. Nothing fancy, just a few ingredients and some quality, canned San Marzano tomatoes. To get the sweeter, less-acidic San Marzanos that are grown in the volcanic ash-rich soil below Mount Vesuvius, you must look for the Denominazione d'Origine Protetta ("Protected Designation of Origin") stamp, otherwise known as DOP.
Not every tomato that says "San Marzano" on the label actually qualifies as true DOP tomatoes.
Some are grown in America using San Marzano seeds, and are often labeled as "San Marzano style." You have to look for a little red emblem on the label for the DOP designation to know that they are the real deal. These might not be too easy to find, depending where you are. And if you were to find them in a store or online, they would be on the pricier side.
Then there is the Cento brand of San Marzano tomatoes, which is fairly easy to find in grocery stores. Cento San Marzanos used to carry the DOP stamp of approval. The company says that due to what they determined to be the "unreasonable" nature of some new label requirements, they decided to remove the DOP seals from their label, but claim that they remain certified San
Marzano tomatoes that are grown in the proper regions of Italy. This is, of course, heavily debated on forums and blog posts, and we may never know the true answer. But these are the tomatoes that I use, and they make a flavorful sauce, packed with tomato goodness.
If you want to be absolutely sure you're getting the real deal, seek out that D.O.P. stamp, but in my opinion, the Cento brand is completely acceptable, and delicious.
Two other important steps that make this sauce extra special are, straining excess water from the tomatoes, which concentrates their flavor, and removing as many seeds from the tomatoes as possible, because they would impart a bitterness to the sauce when blended."

Pomodori Perfetti
Servings: 2 cups
Ingredients
1 28-ounce can peeled San Marzano tomatoes
1 tablespoon olive oil
3 cloves garlic grated or pressed
Salt and freshly ground black pepper
Instructions
Place a fine-mesh strainer over a bowl and pour the tomatoes into the strainer. Shake them back and forth a bit until they settle, then let them drain for 1 hour. You will be left with the tomatoes in a thick puree. The strained liquid can either be discarded, or used in a Bloody Mary, your call.

Over a bowl, gently puncture the bottom or side of each tomato with your thumb and push out the seeds so they fall into the bowl. Remove as many of the seeds as possible (you won't get them all, and that's OK), doing your best not to discard any of the tomato flesh or thick puree.

Combine the tomatoes, thick puree from the strainer, oil, garlic, and ½ teaspoon salt in a food processor or blender. If using a food processor or regular blender, pulse multiple times until smooth. If using a high-powered blender, blend on a low setting until smooth. If you blend it too intensely for too long, you'll incorporate air bubbles into the sauce, thus diluting the flavor.

Season with salt and pepper to taste. The sauce will keep in the fridge for a week. Allow to come to room temperature before making your pizzas.
Hope you enjoy this easy vegan recipe!
Share your experience