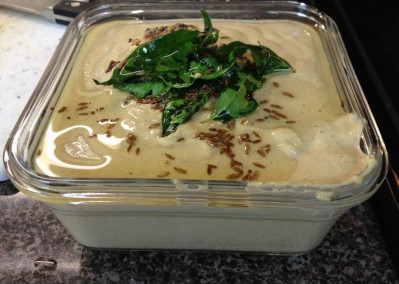 Peanut Chutney
This peanut chutney recipes goes beautifully with our pesarattu dosa recipe (gluten-free lentil crepe).  It takes less than 10 minutes to make, is packed with protein and super yummy!

Peanut Chutney
Servings: 1 cup
Ingredients
1 cup peanuts blanched, for best taste
2-3 green chilies cut in half
1 clove of garlic
1 tsp tamarind pulp + 1tsp water
1 tsp oil
1/4 th cup chopped cilantro optional
Instructions
In a saute pan, add the tsp of oil, peanuts, green chilies and garlic. Stir often to ensure the peanuts are evenly toasted. About 5-7 minutes. Make sure the peanuts are light brown.

Once peanuts are light brown, add the tamarind pulp. Saute until the water evaporates from the tamarind paste. About 2-3 minutes. (Don't be afraid to add water to the tamarind if you think it is getting too brown in the pan)

If your food processor, Vita-Mix, blender doesn't work well with hot foods, transfer peanut/ tamarind mixture to a plate to cool before blending.

Add all ingredients to your blender with 1 tsp of salt and a cup of water. Blend/ process until it becomes a smooth paste. The mixture should be like a thick soup, (not solid like peanut butter). If needed, add a small amount of water to thin. Transfer to a large bowl. Optional: tempering ingredients will be added before serving.

Serve in individual bowls as a dipping sauce for dosas, fritters, vada, or idly. Garnish with cilantro.
Hope you enjoy this easy vegan recipe!
Notes
Chef's notes: Optional tempering (To add flavor) 1. Heat 1 tsp of oil In sauté pan. (The oil must to be hot before you add any seasonings) 2. Add a 1/2 tsp of cumin seeds and 1/2 tsp of black mustard seeds Optional: add 5-6 leaves of fresh curry leaves 3. Saute until all the seeds start popping in the oil. It will smell fragrant and lovely! In a second pan: 4. Add 1 tsp of oil, peanuts, green chilies and garlic. Stir often to ensure the peanuts are evenly toasted. 5. Pour oil and spice mixture immediately into the chutney in the bowl and mix it well. Note: to make a variation of this peanut chutney recipe, use 1 chopped tomato instead of the tsp of tamarind pulp.
Share your experience