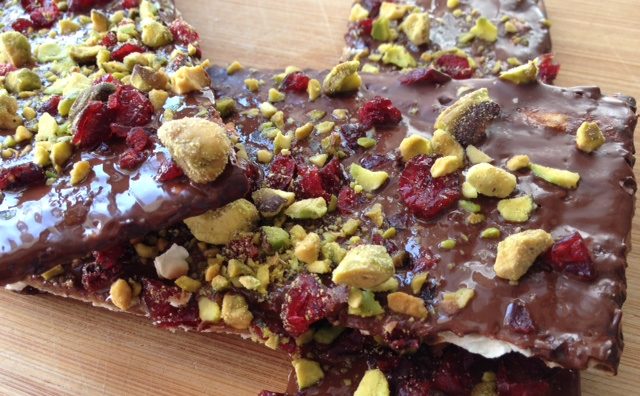 Pistachio and Cranberry Studded Matzo Brittle
This is a vegan Passover recipe you'll love to make!  Thanks so much to Heather Goldberg and Jenny Engel from Spork Foods, the authors of  the Spork-Fed cookbook, for sharing their chocolate, caramel covered, pistachio and cranberry matzo treat with us!

Pistachio and Cranberry Studded Matzo Brittle
Servings: 6
Ingredients
3 sheets matzo
3 tablespoons non-hydrogenated margarine
¼ cup organic raw cane sugar
¾ cup dark chocolate chips or chopped chocolate
½ cup roughly chopped Setton Farms pistachio kernels
1/3 cup roughly chopped sweetened dried cranberries
Instructions
Pre-heat oven to 350°F. Place sheets of matzo on a lightly greased baking sheet. Set aside.

In a small saucepan over medium-low heat, add margarine and cook until melted. Add raw cane sugar and whisk to create a caramel, about 2 minutes. Add cinnamon. Spread mixture evenly over matzo and place in the oven for 5-6 minutes, or until caramel mixture is bubbling.

Remove from oven. Smooth caramel mixture over matzo and evenly sprinkle chocolate on top. Place in the oven for an additional 2-3 minutes to melt.

Remove from the oven and spread chocolate with a spatula to smooth over matzo evenly. Top evenly with pistachios and cranberries. Turn oven off and place matzo in oven for an additional 2 minutes, to make brittle extra crisp. Place on the counter to cool for about 15 minutes.

Once cool, refrigerate for 30 minutes to 1 hour to allow to firm up. Break into uneven pieces and serve.
Hope you enjoy this easy vegan recipe!
Share your experience