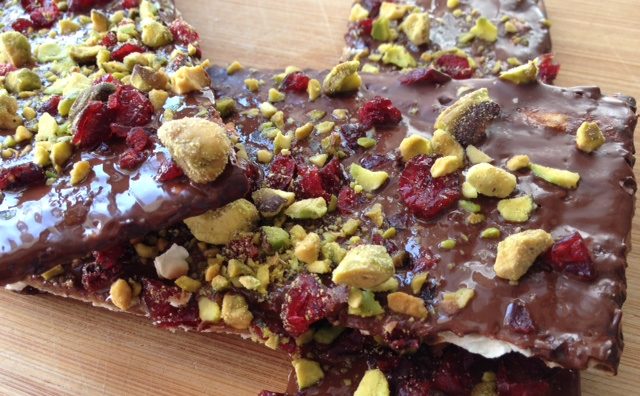 Chocolate Pistachio and Cranberry Studded Matzo Brittle
This chocolate caramel matzo brittle is a vegan Passover recipe you'll love to make!  Thanks so much to Heather Goldberg and Jenny Engel from Spork Foods for sharing their chocolate, caramel, pistachio and cranberry matzo treat!
This recipe is easy to make and sooo yummy! Make sure to prepare ahead of time as you'll need to refrigerate for about an hour before serving. This will give the chocolate coating time to harden.
This recipe is from the Spork-Fed cookbook, reprinted with permission,
If you like this recipe for chocolate matzo brittle, browse the entire Yummy Plants easy vegan recipe collection for more easy vegan recipe ideas.
No time to cook? Check out the Food Reviews section for vegan frozen and packaged foods you can find online and in most US grocery stores.
If you're a beginner vegan or you'd like tips to get started, visit the Vegan FAQ and Start Here pages for tips to help support your vegan journey. Or pick up a copy of It's Easy to Start Eating Vegan.

Pistachio and Cranberry Studded Matzo Brittle
Servings: 6
Ingredients
3 sheets matzo
3 tablespoons non-hydrogenated margarine
¼ cup organic raw cane sugar
¾ cup dark chocolate chips or chopped chocolate
½ cup roughly chopped Setton Farms pistachio kernels
1/3 cup roughly chopped sweetened dried cranberries
Instructions
Pre-heat oven to 350°F. Place sheets of matzo on a lightly greased baking sheet. Set aside.

In a small saucepan over medium-low heat, add margarine and cook until melted. Add raw cane sugar and whisk to create a caramel, about 2 minutes. Add cinnamon. Spread mixture evenly over matzo and place in the oven for 5-6 minutes, or until caramel mixture is bubbling.

Remove from oven. Smooth caramel mixture over matzo and evenly sprinkle chocolate on top. Place in the oven for an additional 2-3 minutes to melt.

Remove from the oven and spread chocolate with a spatula to smooth over matzo evenly. Top evenly with pistachios and cranberries. Turn oven off and place matzo in oven for an additional 2 minutes, to make brittle extra crisp. Place on the counter to cool for about 15 minutes.

Once cool, refrigerate for 30 minutes to 1 hour to allow to firm up. Break into uneven pieces and serve.
Hope you enjoy this easy vegan recipe!
Share your experience