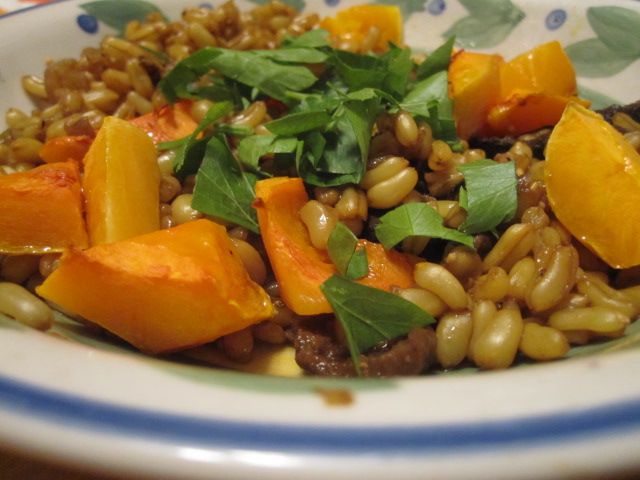 Kamut Berries with Porcini Mushrooms & Butternut Squash
This is one of my favorite vegan butternut squash recipes. If you're looking for a vegan entree recipe for company, this vegan butternut squash recipe is a winner. It's easy to make, and I can set the table and prepare the rest of the meal while the kamut is cooking.  Also, if pressed for time, it's possible to make this dish a day in advance and heat up right before company comes.  Just wait to garnish with the fresh herbs until serving.  If you're following the Ornish diet or another fat-free diet, just omit the oil from this recipe.  
Since butternut squash is plentiful in the Fall, I've made this vegan butternut squash recipe for a Thanksgiving potluck with great success. The kamut gives a rich, nutty texture, and the porcini adds creaminess. It's a truly delicious dish and your omnivore loved ones will compliment the dish without even noticing it's meatless. 
Bon appetit!
Note: Kamut is an ancient grain with a rich, nutty flavor.  If you can't find it at a store near you, you can buy kamut online, or substitute spelt or wheat berries.

Kamut Berries with Porcini Mushrooms and Butternut Squash
Servings: 4
Ingredients
2 cups kamut berries
1 butternut squash peeled, seeded, and cut into 3/4-inch cubes (about 2 pounds)
1 small onion
4 shallots
½ cup dried porcini mushrooms
olive oil
2 teaspoons mustard seeds
1 ½ teaspoons of curry powder
1 ½ teaspoons of cumin
4 tablespoons red wine vinegar
1 cup minced fresh parsley leaves
Instructions
Note: the kamut will take almost 2 hours to cook. You may want to prepare the kamut the night before and store in the refrigerator until you are ready to make the rest of the dish.

Rinse the kamut berries under cold running water for several minutes. Place the kamut berries in a medium saucepan. Add 6 cups of water and the dried porcini mushroons. Salt the water generously. Cook over medium heat and bring to a boil. Then reduce heat and simmer until tender. It will take about 2 hours until the kamut is tender. Add water as necessary throughout the cooking process. The porcini mushrooms will create a nice "gravy" in the pot. Make sure the kamut does not dry out.

Preheat oven to 400 degrees and prepare the squash. Lightly coat the the cubed squash with 2 tablespoons of olive oil and place on baking sheet. Season with salt and pepper and bake for 30 minutes.

Coat a large saucepan with 4 tablespoons olive oil and heat over a medium flame. Once the oil is heated, add the chopped onions and shallots and season with salt and pepper. Cook for about 15 minutes, stirring occasionally, until soft and golden.

Add the mustard seeds, curry powder and cumin, stirring well, and continue cooking for about 1 minute or until fragrant. Add the vinegar. Stir well to deglaze, reduce the heat to low, and cook 2 minutes more. Remove from heat. Add the cooked kamut berries and all the remaining porcini mushroom liquid. Stir well.

Transfer the kamut berries and mushroom sauce to a large bowl. Add the butternut squash and toss to combine. Season with salt and pepper. Just before serving, garnish with the minced parsley leaves. May be served hot or at room temperature.
Hope you enjoy this easy vegan recipe!
Share your experience