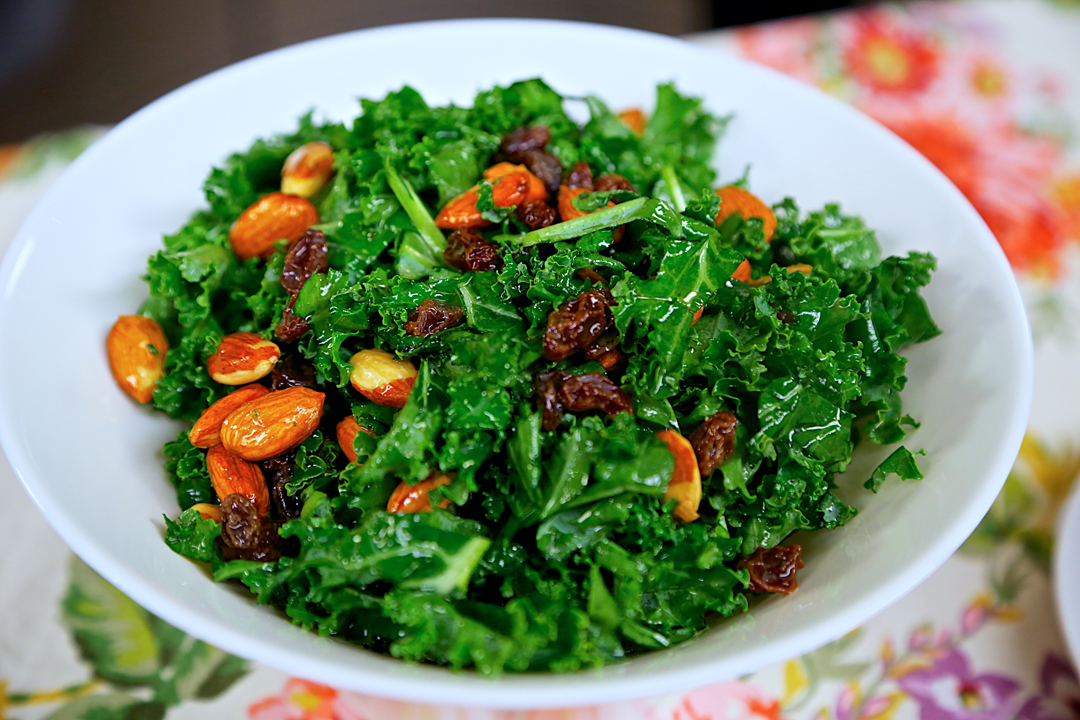 Kale, Lime and Almond Salad
Here's an exciting kale salad recipe from Laura Theodore, aka the Jazzy Vegetarian! Her book, Vegan-Ease, rates recipes into level of difficulty. This kale salad recipe has an ease factor of 1 and can go from fridge to table in 10 minutes.
Fun fact: did you know that adding Vitamin C to your meal helps to boost plant-based iron absorption?
Laura says, "A lively punch of freshly squeezed lime juice adds freshness to this unique salad. This combination is sure to please when you're looking to serve up your daily greens with a piquant flair."
Vegan-Ease creates special menus to make meal planning even easier. To make a complete meal, pair this kale salad with Walnut and Quinoa Stuffed Portobello Mushrooms and Maple Raisin Date Truffles.
You'll find fun menus in Laura's book like the Vegan, Gluten-Free, and Soy-Free Party Menu, the Be My Valentine Menu, and the Sunday Brunch Menu. 
This Kale Salad Recipe is from Laura Theodore's Vegan-Ease: An Easy Guide to Enjoying a Plant-Based Diet  ©Laura Theodore 2015, 2020. Reprinted by permission. Distributed by Cardinal Publishing. More information at www.jazzyvegetarian.com. Signed copy on sale, available here. Available on Amazon here. Watch Season Five on Amazon here.
---
For more easy vegan entrees and other recipes, visit the complete Yummy Plants recipe collection where you can also find vegan gluten-free recipes!
If you run out of time to cook and guests are coming soon, visit the Food Reviews section to find a yummy store-bought vegan dessert or a packaged vegan meal that is tasty and quick to prepare. I only list vegan foods that taste good, so all of the products are Yummy Plants Approved!
Are you a new vegan, trying to figure out what can vegans eat? Visit Start Here: Vegan for Beginners and the Vegan FAQ. You'll learn about easy egg and dairy substitutions, vegan protein sources, and how to stock your pantry. For more detailed information, pick up a copy of It's Easy to Start Eating Vegan.

Kale, Lime and Almond Salad
Ingredients
DRESSING
3 tablespoons freshly squeezed lime juice
2 tablespoons maple syrup
⅛ teaspoon sea salt
Several grinds of fresh black pepper
SALAD
5 cups packed thinly sliced kale, thick stems removed
⅓ cup roasted or raw almonds (see note)
¼ cup raisins
Instructions
Put all of the dressing ingredients in a small bowl and whisk briskly to combine.

Put all of the salad ingredients in a large bowl, pour in the dressing and toss until well coated. To soften the kale leaves, use clean hands to "massage" the dressing into the kale for about 30 seconds. Let stand 5 minutes and serve. Note: This salad can be made ahead of time and refrigerated up to 4 hours before serving. 
Hope you enjoy this easy vegan recipe!
Notes
Chef's Note: Tamari-flavored almonds are good in this recipe too.
Share your experience