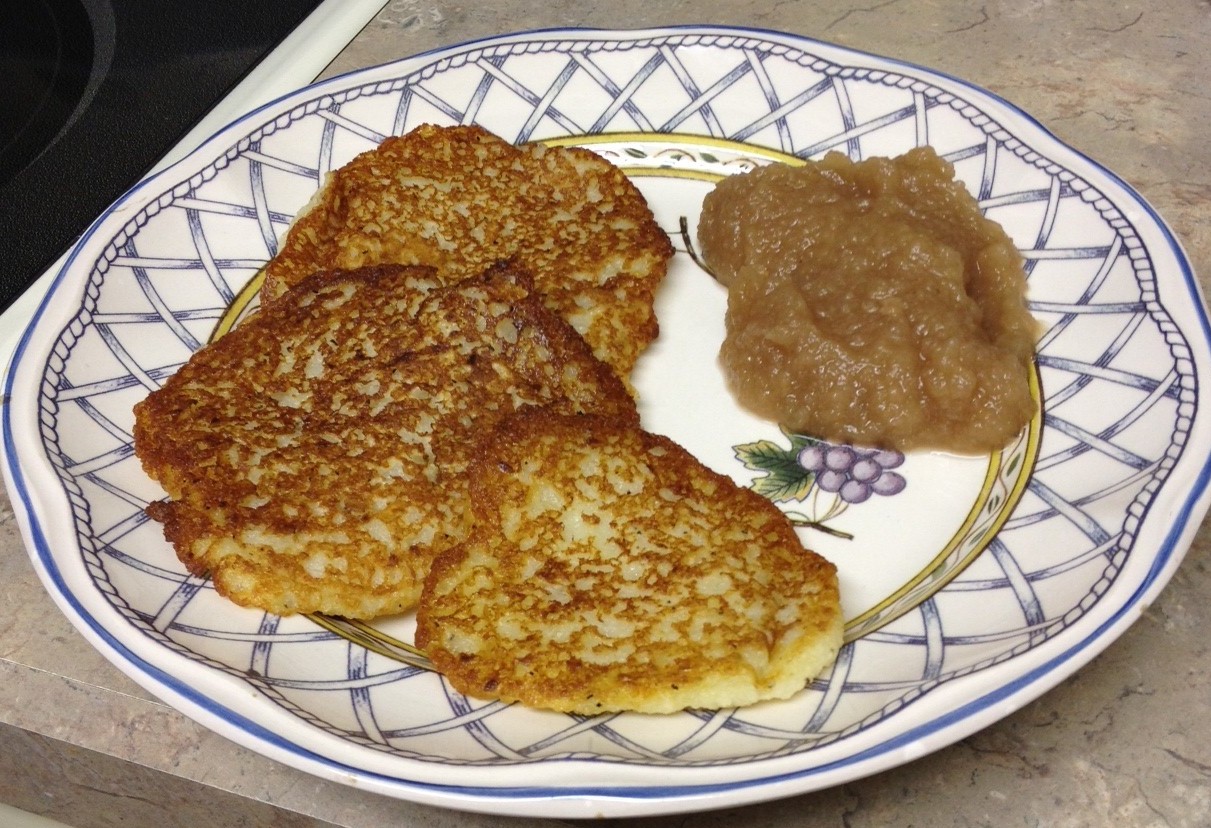 Hanukkah Latkes
Whether you're celebrating Hanukkah or you just want to make these tasty potato treats, here's a super yummy vegan latke recipe!  This vegan latke (potato pancake) recipe uses a shelf stable egg replacer.  I used Ener-G egg replacer for the vegan latkes in this photo, and I also chopped the potatoes in a blender instead of grating them.  You can also choose a homemade egg substitute.
Chef's Note: you can make this recipe gluten-free by using rice flour or another gluten-free flour.
Happy Hanukkah!!
PS. If you need a brush up the on the rules for the Dreidel game, visit the Yummy Plants Hannukah cheklist. And yes, I listed resources for vegan gelt :) Here's another Hannukah gelt resource that is both vegan and certified nut-free. I just found this one. It's made in Holland with Belgian chocolate. Yum!
Did you enjoy this latke recipe? For more easy vegan recipes, visit the entire Yummy Plants vegan recipe collection. There are gluten-free vegan recipes too! 
Are you a beginner vegan? Visit the Start Here section or pick up a copy of It's Easy to Start Eating Vegan. To learn about packaged vegan foods you can find online or in most stores, visit the Food Reviews section.

Hanukkah Latkes
Servings: 12
Ingredients
Approx 2 pounds of peeled potatoes whole (or diced if you use a blender)
⅓ sweet onion
Egg substitute for 2 "eggs" use Ener-G Egg Replacer: 3 teaspoons of mix combined with 4 tablespoons of warm water = 2 "eggs"
¾ teaspoon salt
¼ teaspoon pepper
3 tablespoons flour
1 teaspoon baking powder
oil for frying
applesauce
Instructions
Mix the Ener-G Egg Replacer in a small bowl according to the instructions. Set aside.

Grate the potatoes and onion into a large bowl. You can use a box grater if you do it by hand. However, either a food processor or blender makes the task easier. If you use a blender, the consistency of the potatoes will be batter-like but the pancakes will be fine.

Add the remaining ingredients, except oil, to the potato and onion mixture and combine well.

Heat about three tablespoons of oil in a frying pan (the oil should cover the bottom of the pan) and drop the potato mixture into the pan, about 2 soupspoons of batter for each pancake. Flatten the batter to form pancakes. Add oil if needed as the pancakes cook. (You will have to add oil to the frying pan for each batch of pancakes.)

When the pancakes are golden brown, flip them. As soon as the pancakes are brown on both sides (and the potatoes are cooked), remove the pancakes and let them drain on a plate covered with a paper towel.

Serve warm with applesauce.
Hope you enjoy this easy vegan recipe!
Share your experience