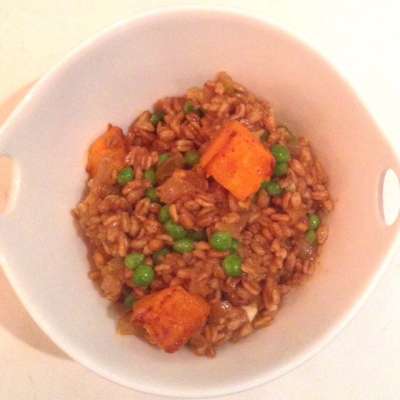 Farro with Butternut Squash, Peas and Raisins
Thanks to Caryn Dugan from STL Veg Girl for sharing this tasty vegan farro recipe!
Caryn says, "New to farro?  Well, this ancient grain has been around for quite some time and you'll LOVE getting to know it!  The plump little grains add some real umph to any dish.  Cook it in vegetable broth to infuse more flavor, and then either create a dish out of it as we have done here or use it in place of rice or quinoa in your burritos, tacos or stir-frys, too."
I'd love to know what you think of this vegan farro recipe. For more recipes, visit the Yummy Plants vegan recipe collection. There are vegan gluten-free recipes too!

Fall Harvest Farro with Butternut Squash, Peas and Golden Raisins
Servings: 2
Ingredients
3 cups vegetable broth
1/2 yellow onion diced
2-3 garlic cloves minced
2 tsp cumin seed
1 tsp coriander
1 tsp chili powder
1 cup semi-pearled farro
1/4 cup light coconut milk
1 cup butternut squash cut into 1" pieces, baked
3/4 cup frozen green peas
1/3 cup golden raisins
1/2-3/4 cup raw cashews coarsely chopped
Sea salt / ground black pepper to taste
Instructions
In a large sauce pan over medium-high heat, pour in 1/4 cup of the broth. Allow to heat up and add in the onion. Begin to sauté. Stir often. Once onion is translucent, add in the garlic and continue to stir (you don't want to burn the garlic). Add more broth if you need to.
Hope you enjoy this easy vegan recipe!
Share your experience