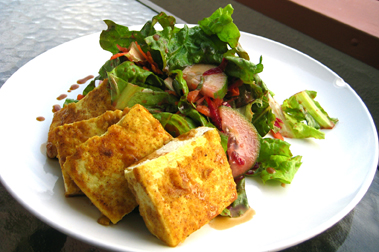 Curry Fried Tofu Salad
A big thank you to Brian Patton, aka The Sexy Vegan, for sharing this super yummy vegan salad "with a kick" recipe with us!
Brian says, "Food should appeal to all five senses. And this salad is a perfect example of something that stimulates sight, smell, texture, and taste, and if you listen really closely, it gives you great decorating tips."  We're glad to have a recipe for a vegan salad that has some texture and tingle!
Excerpted with permission from The Sexy Vegan Cookbook: Extraordinary Food from an Ordinary Dude ©2012 by Brian Patton.  Published with permission of New World Library.

Curry Fried Tofu Salad
Servings: 2 entrees
Ingredients
For the Salad:
1 ounce 14-block extra-firm tofu drained
1 tablespoon extra-virgin olive oil
2 tablespoons curry powder
3 tablespoons unbleached all-purpose flour or another flour, like garbanzo, rice, etc.
Pinch of salt
Pinch of pepper
2 head red leaf lettuce roughly chopped or torn
2 medium cucumber thinly sliced
1 scallion thinly sliced
1 medium beet grated
1 medium carrot grated
For the Dressing:
1 small Thai chili minced (you can use less depending on how hot the peppers are)
2 teaspoons tamarind paste
1 tablespoon fresh lime juice
2 teaspoons low-sodium tamari or soy sauce
3 tablespoons extra-virgin olive oil
4 teaspoons agave nectar
Instructions
Slice the tofu crosswise into six 3-inch-thick rectangles.

In a frying pan, heat the olive oil over medium-high heat.

Spread the curry powder, flour, and salt and pepper on a shallow plate, stir to combine, and dredge both sides of the tofu slices in the seasoning. When the olive oil is just barely starting to smoke, carefully place the slices in the frying pan. Let them fry on one side for 3 to 4 minutes, until browned. Then flip and brown on the other side, 3 to 4 minutes.

In a small bowl, whisk together the dressing ingredients. In a large bowl, combine the lettuce, cucumber, scallion, beet, and carrot, and toss with the dressing.

Pile the salad on a plate and place the fried tofu on top in an artful fashion.
Hope you enjoy this easy vegan recipe!
Share your experience