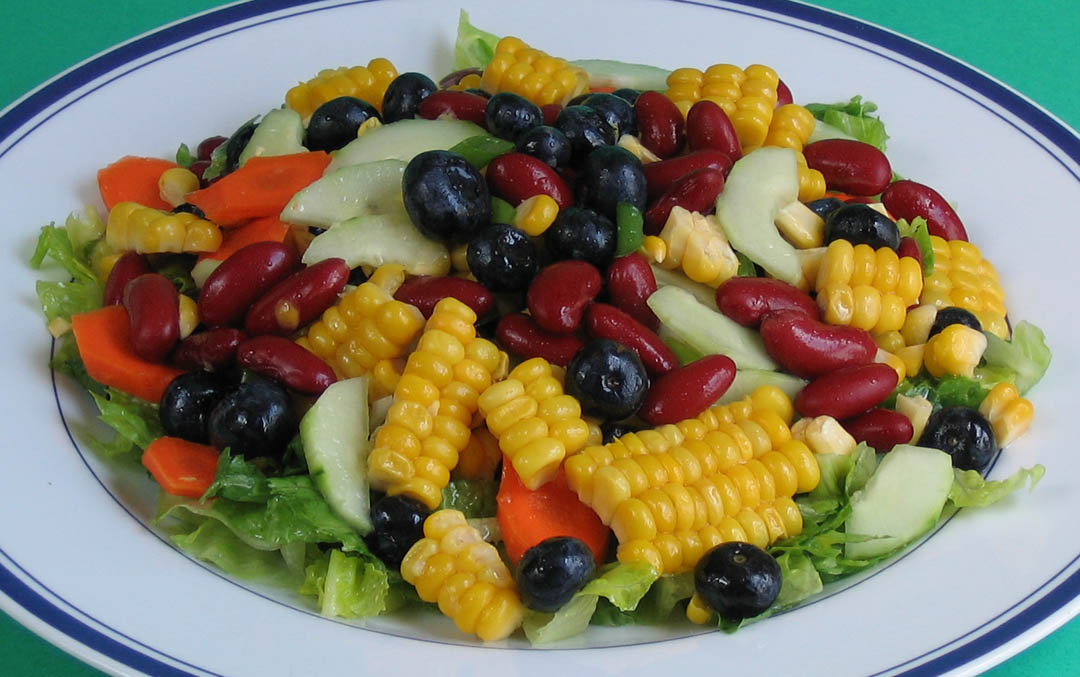 Corn, Red Bean & Blueberry Salad with Mango Dressing
If it's true that we eat first with our eyes, you'll devour this colorful corn and bean salad in seconds.  But it's more than just pretty — this luscious salad is fat-free and tastes great too. The small amount of sriracha sauce in the dressing adds more flavor dimension than heat. It you prefer it a little spicier, double the sriracha.  This recipe is from Quick-Fix Vegan by Robin Robertson © 2011. Used with permission.
Thanks so much to Robin Robertson for sharing this exotic corn and bean vegan salad recipe!
Robin Robertson has worked with food for more than twenty-five years as a restaurant chef, cooking teacher, and food writer. A longtime vegan, Robin is the author of numerous cookbooks, including the best-selling Vegan Planet, 1,000 Vegan Recipes, Vegan Fire and Spice, and Vegan on the Cheap.  Her latest book is Quick-Fix Vegan.
Robin writes the Global Vegan column for VegNews Magazine and has also written for Vegetarian Times and Cooking Light, among others. Visit her Global Vegan Kitchen website.  You can keep up to date with Robin on her blog. She can also be found on Facebook and Twitter.
For more easy vegan recipes, visit the Yummy Plants recipe collection, where you can search by type of meal. It includes vegan gluten-free recipes too!

Corn, Red Bean, and Blueberry Salad with Mango Dressing
Servings: 4
Ingredients
3 tablespoons mango juice or mango puree
2 tablespoons fresh lime juice
1 tablespoon agave nectar or 1 teaspoon sugar
1/2 teaspoon sriracha sauce
1/4 teaspoon salt
2 cups fresh or thawed frozen corn kernels
2 cups fresh blueberries
1 1/2 cups cooked or 1 15-ounce can dark red kidney beans, drained and rinsed
1 cucumber peeled, seeded, and chopped
1 carrot shredded
1 ripe mango peeled, pitted and diced
3 tablespoons minced scallions
1/4 cup fresh cilantro leaves or parsley, basil, or tarragon
3 cups mixed baby lettuces
Instructions
In a small bowl, combine the mango juice, lime juice, agave, sriracha, and salt. Stir to blend. Set aside.

In a large bowl, combine the corn, blueberries, kidney beans, cucumber, carrot, mango, scallions, and cilantro. Pour the dressing over the salad and toss gently to combine. Serve on a bed of lettuce.
Hope you enjoy this easy vegan recipe!
Share your experience