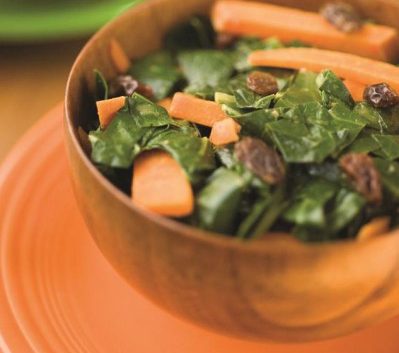 Collard Stir-Fry
Christy Morgan, The Blissful Chef, shared her vegan collard stir-fry recipe in The China Study All-Star Collection by BenBella Books!
Christy says, "This vegan collard stir-fry recipe is my healthier, more vibrant version with a touch of orange." Tip: A chiffonade is a fine slice or shred of leafy vegetables or herbs. To chiffonade, simply stack a few leaves, roll them into a cigar shape, and slice. Remember to remove any tough, woody stems that you want to exclude from your preparation.
This recipe has been used by permission from BenBella Books.
For more easy recipes, check out the Yummy Plants vegan recipes collection. There are vegan gluten-free recipes too!

Collard Stir-Fry
Servings: 4
Ingredients
1/2 cup water
2 cups matchstick-cut sweet potatoes
Pinch of sea salt
1/3 cup orange juice
1 tablespoon peanut butter
2 tablespoons tamari
1/2 teaspoon curry powder
1/2 cup matchstick-cut carrot
2 tablespoons raisins optional
1 bunch collards stems removed, leaves in chiffonade (see Tip), 4 stems thinly sliced on diagonal
Instructions
Heat water in a medium skillet. When water boils, add sweet potato and salt, cover with lid, and simmer for three to five minutes.

Meanwhile, whisk together juice, peanut butter, tamari, and curry powder.

Add carrots, raisins, if using, and collards with sauce mix in skillet.

Let simmer for 3–5 minutes until all the veggies are tender but not mushy.

Stir occasionally to coat the greens with the sauce.
Hope you enjoy this easy vegan recipe!
Share your experience