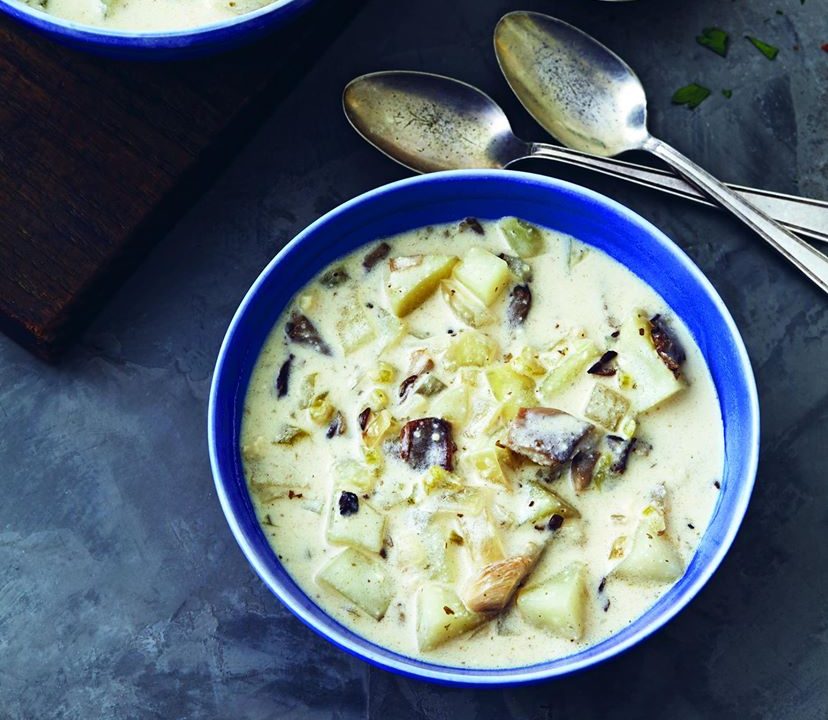 Clam-Free Chowder
Text excerpted from VEGANIZE IT! © 2017 by Robin Robertson. Reproduced by permission of Houghton Mifflin Harcourt. All rights reserved. Photo by William and Susan Brinson.
Oyster mushrooms star in this vegan interpretation of New England clam chowder made with diced potatoes, onion, and celery with a creamy, cashew-based broth. If oyster mushrooms are unavailable, substitute white button mushrooms, chanterelles, or a combination of both.

Clam-Free Chowder
Servings: 4
Ingredients
2 tablespoons vegan butter
8 ounces oyster mushrooms chopped
1 yellow onion chopped
1 celery rib minced
1 garlic clove minced
2 cups peeled and diced potatoes
2 bay leaves
1 teaspoon dulse or nori flakes
½ teaspoon dried thyme
½ teaspoon Old Bay seasoning
1 teaspoon salt
¼ teaspoon ground black pepper
2 cups vegetable broth
¼ teaspoon liquid smoke
½ cup raw cashews soaked in hot water for 1 hour, then drained
2 cups unsweetened almond milk
1 tablespoon minced fresh parsley
Instructions
Heat 1 tablespoon of the butter in a large pot over medium heat. Add the mushrooms and cook for 5 minutes. Remove from the pot with a slotted spoon. Add the remaining 1 tablespoon butter to the same pot over medium heat. Add the onion, celery, and garlic and cook, stirring occasionally, for 5 minutes, or until softened. Stir in the potatoes, bay leaves, dulse, thyme, Old Bay, salt, pepper, and vegetable broth. Bring to a boil and then decrease the heat to low and cook for 30 minutes, or until the potatoes are just tender. Remove the bay leaves and stir in the liquid smoke.

While the soup is simmering, blend the cashews and 1 cup of the almond milk in a high-speed blender until smooth. When the vegetables are tender, stir in the cashew mixture and the remaining 1 cup almond milk. Stir in the reserved mushrooms and heat the soup for a minute or two until hot. Taste and adjust the seasonings, if needed. Serve hot, garnished with the parsley.
Hope you enjoy this easy vegan recipe!
Share your experience