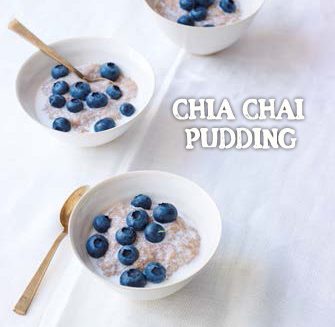 Chia Chai Pudding – Raw
Love this easy raw, vegan recipe from Brad Gruno, the founder of  Brad's Raw Foods! It takes just 5 minutes to prepare, then pop in the fridge overnight for a quick and delicious breakfast.

Chia Chai Pudding – Raw
Servings: 6
Ingredients
3 cups nut or coconut milk
1 ½ teaspoons ground cardamom
½ teaspoon cinnamon
½ teaspoon ground cloves
¼ teaspoon ground nutmeg
1 teaspoon vanilla extract
3 tablespoons maple syrup
¼ – ½ cup chia seeds
Instructions
Blend milk, cardamom, cinnamon, cloves, nutmeg, vanilla, and maple syrup together in a blender on high speed until smooth.

Place the chia seeds in a bowl and pour the mixture over the seeds. Stir thoroughly with a whisk or a fork.

Let it sit for 5 minutes, then stir again. Let it sit another 10 minutes, then stir again. Refrigerate the pudding overnight and check in the morning for desired consistency. If it's too thick, add more milk.
Hope you enjoy this easy vegan recipe!
Share your experience