Vegan Recipe - Brooklyn Barley Stew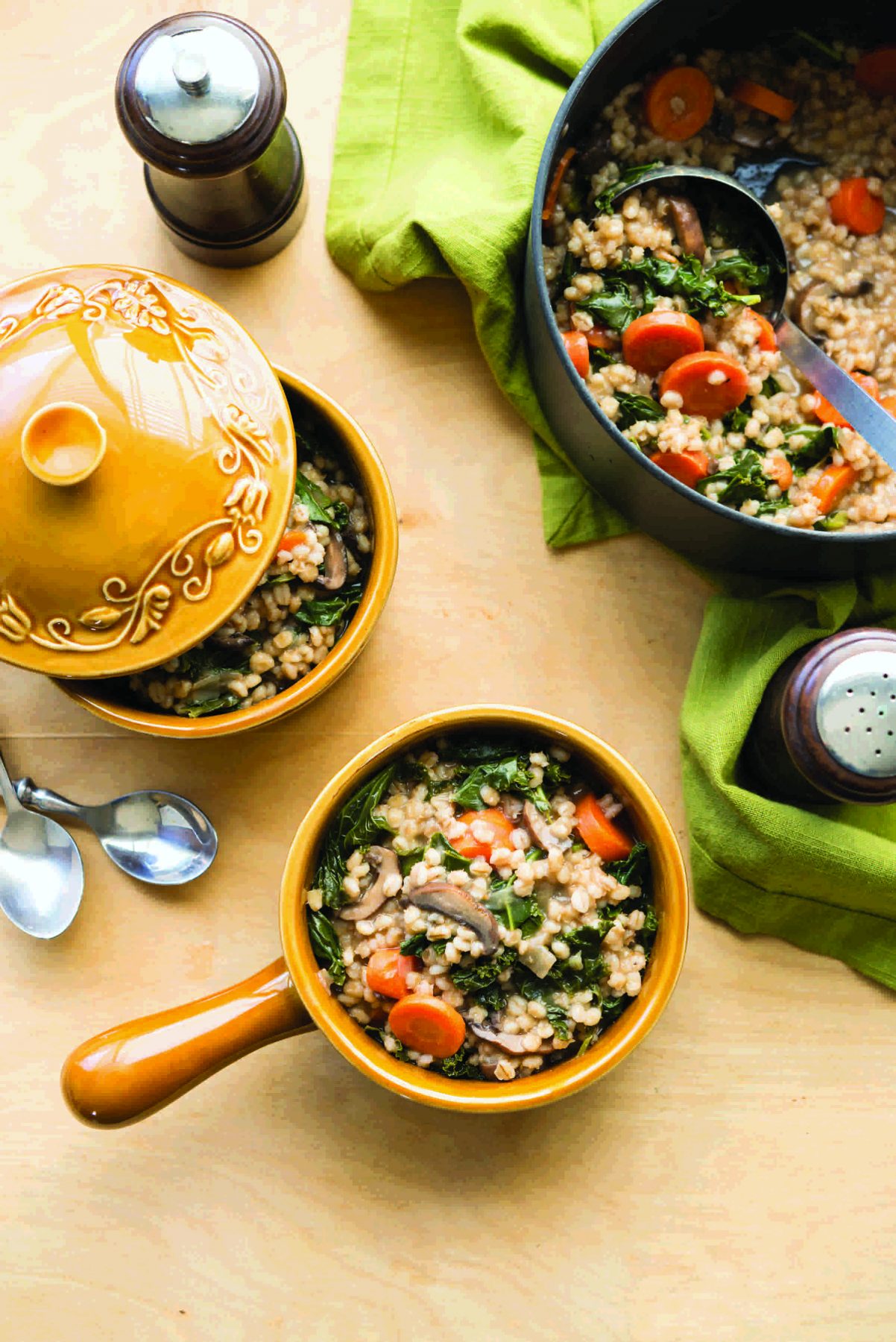 Prep Time :

10 minutes

Cook Time :

about an hour

Servings :

6-8
This easy vegan barley soup recipe comes from The Main Street Vegan Academy Cookbook by Victoria Moran and JL Fields; recipe by Michael Suchman (BenBella Books; 2017)
Victoria and JL say, "Simple ingredients combine to make a nutritious stew that is packed with flavor. This delicious make-ahead dish only gets better as it sits, so fix it today and eat it tomorrow — if you can wait that long."
Ingredients
1 tablespoon olive oil
1 medium yellow onion, diced
8 ounces cremini mushrooms, sliced
1 cup pearl barley
1/2 cup dry red wine (optional)
2 carrots, sliced
4 cups vegetable broth
1 beef-style vegan bouillon cube (from a 3.1-oz package) or 1 teaspoon beef-style vegan bouillon powder
1 bunch kale, stems removed and leaves torn into 2-inch pieces
Salt (optional)
Preparation
1. In a large stockpot, heat the olive oil over medium-high heat. Add the onion and sauté until translucent and soft, about 6 minutes. Add the mushrooms and stir to coat with oil. Sauté for 5 minutes, or until the mushrooms have released their liquid and are starting to brown.
2. Add the barley and stir to combine. Stir in the wine, if using, and cook until the liquid is absorbed. Stir in the carrots. Pour in the broth and raise the heat to high. Add the bouillon and stir until it is dissolved. Cover the pot and bring the broth to a rolling boil. Turn the heat down to a simmer and cook, covered, for 45 minutes, or until the barley is tender.
3. When the barley is tender, stir in the kale. It will look like a lot, but as you stir it in, it will wilt down. Taste and add salt if needed.
Let us know what you think of this easy vegan recipe: Brooklyn Barley Stew!