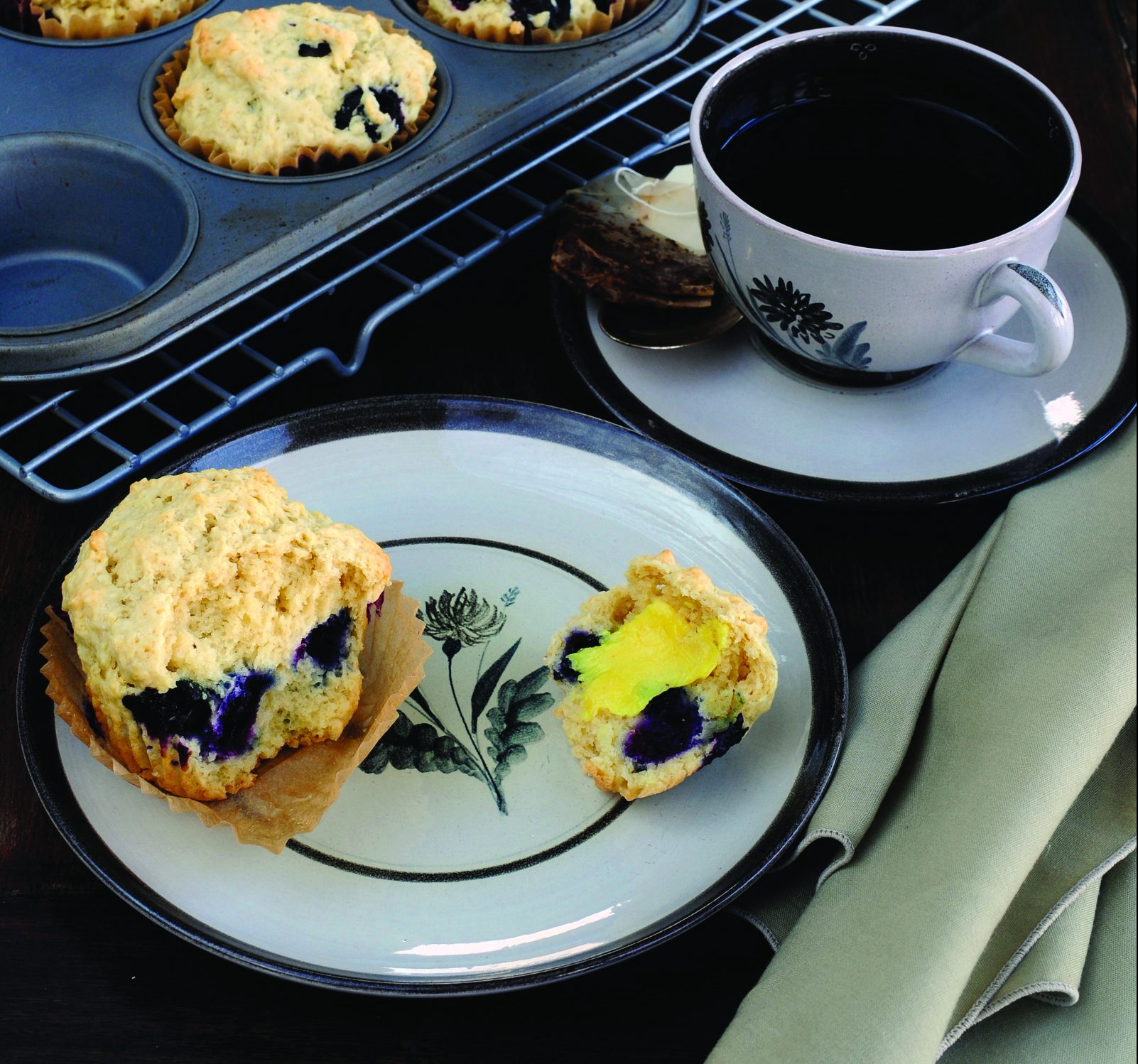 Berry Muffins
Whether you're cooking for yourself or a few friends, you'll love this easy recipe for vegan berry muffins! Ellen Jaffe Jones, known for her vegan on a budget recipes in  Eat Vegan on $4 a Day, has created another collection. She showcases perfectly proportioned recipes for solo cooking in her book Vegan for One.  
Ellen says, "These quick and easy vegan berry muffins are bursting with berries. Enjoy for breakfast or as an afternoon snack with a cup of tea or coffee." Recipe from Vegan for One by Ellen Jaffe Jones. Used with permission Book Publishing Company.
Chef's note: For a variation, replace the berries with ½ cup chopped fresh fruit, ¼ cup dried fruit, ½ cup coarsely chopped nuts, ½ cup vegan chocolate chips, or any combination of these.

Berry Muffins
Servings: 6 muffins
Ingredients
1 cup plus 2 tablespoons unbleached all-purpose flour or whole wheat pastry flour
2 tablespoons unbleached cane sugar 2¼ teaspoons baking powder
1/4 teaspoon sea salt
2/3 cup plain nondairy milk
2 1/2 tablespoons sunflower oil or other oil
1/2 teaspoon vanilla extract
1/2 cup fresh or frozen berries such as blueberries, blackberries, cranberries, or raspberries
Instructions
Preheat the oven to 400 degrees F. Line six cups of a standard muffin tin with paper or silicone liners, or lightly oil or mist the cups with cooking spray.

Put the flour, sugar, baking powder, and salt in a medium bowl and whisk to combine.

Add the milk, oil, and vanilla extract and whisk to combine. Gently stir in the berries.

Fill the prepared muffin cups three-quarters full. Bake for 18 to 20 minutes, or until a toothpick inserted in the center of a muffin comes out clean.

Let cool in the pan for 5 minutes, then transfer the muffins to a rack. Serve warm or at room temperature.
Hope you enjoy this easy vegan recipe!
Notes
Stored in an airtight container, the extra muffins will keep for 3 days at room temperature or 2 months in the freezer.  
Share your experience
For more easy vegan breakfast ideas and other recipes, visit the complete Yummy Plants recipe collection where you can also find vegan gluten-free recipes!
If you run out of time to cook and guests are coming soon, visit the Food Reviews section to find a yummy store-bought vegan breakfast or a packaged vegan dessert/ meal that is tasty and quick to prepare. I only list vegan foods that taste good, so all of the products are Yummy Plants Approved!
Are you a new vegan, trying to figure out what can vegans eat? Visit Start Here: Vegan for Beginners and the Vegan FAQ. You'll learn about easy egg and dairy substitutions, vegan protein sources, and how to stock your pantry. For more detailed information, pick up a copy of It's Easy to Start Eating Vegan.