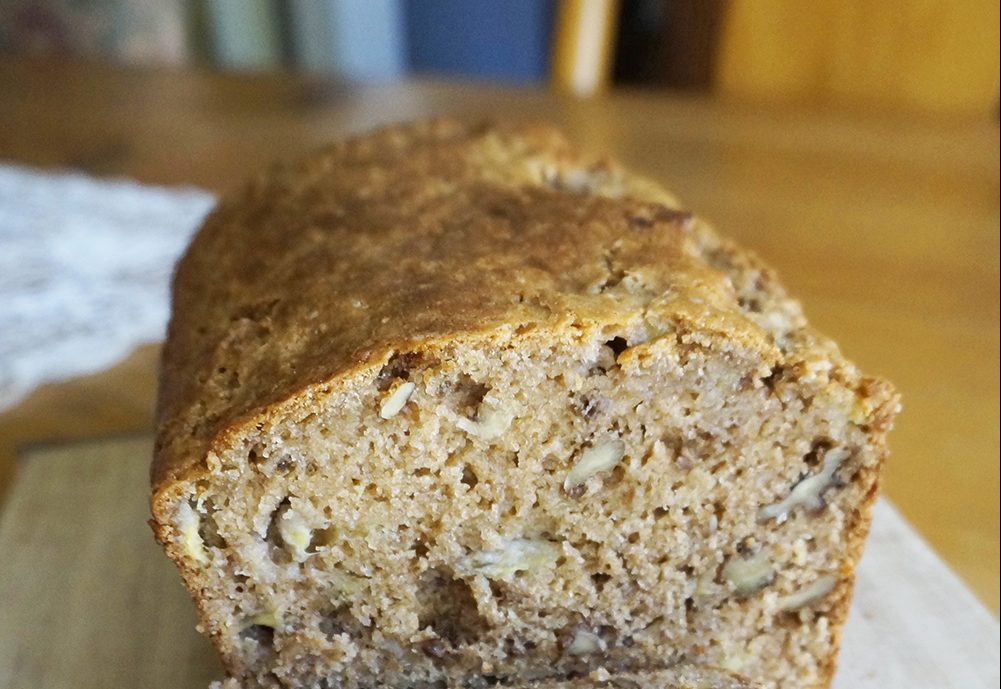 Banana Walnut Bread
Laura Theodore, also known as the Jazzy Vegetarian, shared this super yummy vegan recipe from her new book, Jazzy Vegetarian's Deliciously Vegan, published by Scribe Publishing. ©2018 reprinted with permission.
Laura says, "This delicious bread makes a wonderful snack, slathered with a bit of vegan margarine, nut butter or your favorite fruit preserves."

Banana Walnut Bread
Ingredients
1 cup plus 1 tablespoon nondairy milk
2 tablespoons freshly squeezed lemon juice
2 cups plus 2 tablespoons whole wheat flour
1 teaspoon baking soda
1 cup vegan cane sugar
1/3 cup extra-light olive oil see note
1 teaspoon vanilla
1 1/2 cups mashed ripe bananas about 3 medium
1 cup chopped walnuts
Instructions
Preheat the oven to 375 degrees F. Lightly coat a 9 by 5-inch loaf pan with vegan margarine. Line the lengthwise sides and bottom of the pan with unbleached parchment paper, leaving an overhang of 2-inch "wings" on the two long sides of the pan.

Put the nondairy milk and lemon juice into a small bowl or pitcher, and stir to combine. Let stand at room temperature while preparing the batter.

Put the flour, baking soda and sugar in a large bowl, and stir with a dry whisk until combined. Add the nondairy milk/lemon juice mixture, oil, vanilla and mashed bananas, and stir with a large spoon until combined. Fold in the chopped walnuts. Pour the batter into the prepared loaf pan. Bake for 45 minutes.

Decrease the heat to 350 degrees F and bake for an additional 15 to 20 minutes, or until the top is golden and a toothpick inserted into the center of the loaf comes out clean. Put the pan on a wire rack. Lift the bread out of the pan using the paper "wings." Let cool for at least 1 hour before slicing. Wrapped tightly and stored in the refrigerator, leftover bread will keep for 3 days.
Hope you enjoy this easy vegan recipe!
Notes
If desired, you may use extra-virgin olive oil in place of the extra-light olive oil. The bread will be slightly denser in texture.
Share your experience