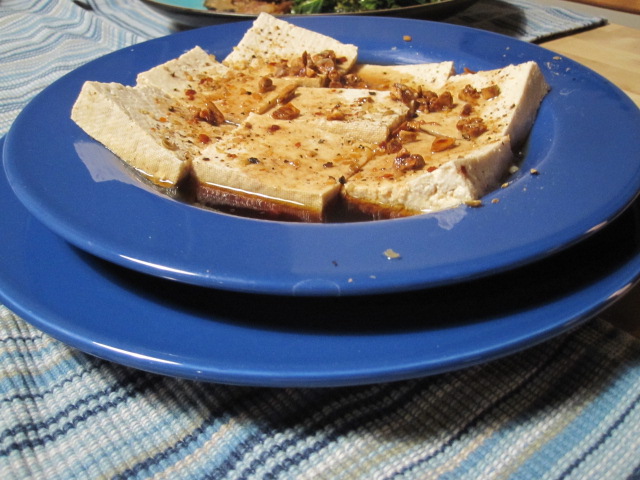 Baked Tofu (with Sesame Seeds)
This super easy vegan baked tofu recipe is nutritious, delicious and packed with protein!  I love this recipe because you cannot mess it up, LOL. Simply marinate the tofu and bake it. It doesn't get easier than this! 
Sometimes I press the tofu and freeze before I marinate. Freezing changes the tofu's texture to make it extra chewy, which I like.
You don't have to watch the tofu while it's baking, so you can prepare the rest of the meal. This baked tofu recipe is truly one of the easiest recipes I prepare. Enjoy!
For more easy vegan entrees and other recipes, visit the complete Yummy Plants recipe collection where you can also find vegan gluten-free recipes!
If you run out of time to cook and guests are coming soon, visit the Food Reviews section to find a yummy store-bought vegan dessert or a packaged vegan meal that is tasty and quick to prepare. I only list vegan foods that taste good, so all of the products are Yummy Plants Approved!
Are you a new vegan, trying to figure out what can vegans eat? Visit Start Here: Vegan for Beginners and the Vegan FAQ. You'll learn about easy egg and dairy substitutions, vegan protein sources, and how to stock your pantry. For more detailed information, pick up a copy of It's Easy to Start Eating Vegan.

Baked Tofu (with Sesame Seeds)
Servings: 4
Ingredients
1 pound firm tofu
1 tablespoon sesame oil or your favorite oil
1 tablespoon freshly grated ginger root
1/8 cup Tamari
1/4 cup sesame seeds optional
Instructions
Cut the tofu in cubes or 1/4" slices.

Mix the sesame oil, grated ginger, Tamari and water in a bowl. Pour over tofu and allow to marinate several hours or overnight.

After marinating, preheat over to 350 degrees F. Place in a pan and sprinkle with sesame seeds.

Bake at 350 degrees F for 45 minutes to an hour, depending on your preference for softer or chewier tofu.
Hope you enjoy this easy vegan recipe!
Share your experience