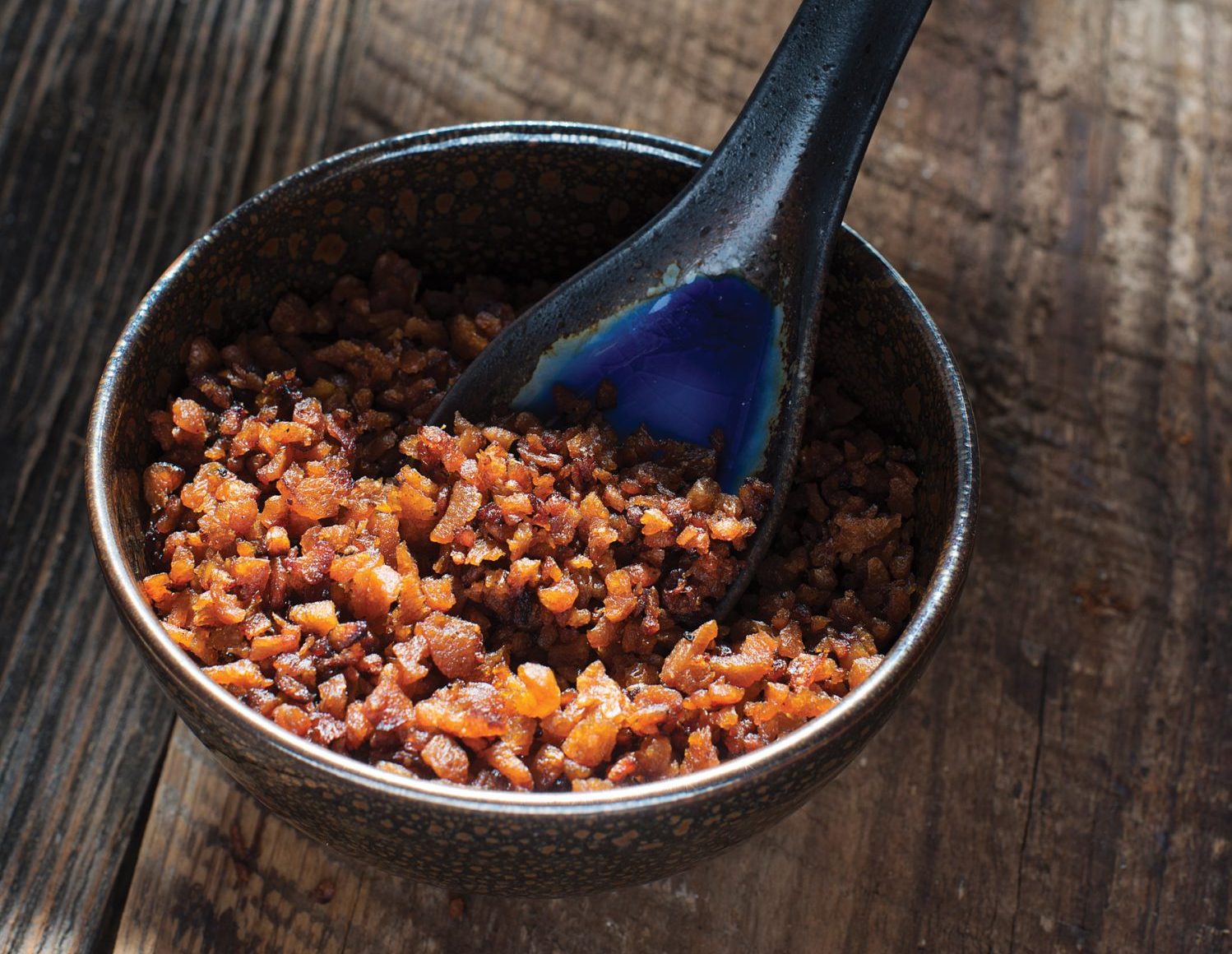 Vegan Bacon Bits
I LOVE this recipe! I've been so excited to make vegan bacon bits since playing with the Baconish cookbook by Leinana Two Moons. I'm thrilled that her publisher has agreed to share this super yummy recipe with us!
To make this easy vegan recipe, you'll need some TVP  (here's a 4-pack! ), liquid smoke, maple syrup, and tamari (or gluten-free tamari).  You probably already have the rest of the ingredients at home :)
Note:  For best results to cook these bacon-y bits to crispy perfection, use a cast iron skillet.
Leinana says, "It's fairly easy to find accidentally vegan bacon bits at the grocery store, but they may contain preservatives and other questionable ingredients. These bits are easy to make yourself, healthier, and taste so much better than the store-bought kind."
From Baconish © 2016 by Leinana Two Moons. Used with permission from Vegan Heritage Press.
I hope you love this recipe as much as I do. It only takes about 15 minutes to make, and it stores well in an air-tight container. I've been making cups at a time and sprinkling them on everything: salads, basked potatoes, split-pea soup, mac and cheese. EVERYTHING.
Enjoy your bacon bits :)
For more easy recipes, visit the Yummy Plants vegan recipe collection. It has vegan gluten-free recipes too!

Baconish Bits
Servings: 1 cup
Ingredients
1/4 cup boiling water
2 tablespoons tamari
1 tablespoon maple syrup
1 tablespoon liquid smoke
1 teaspoon ketchup
1/2 teaspoon garlic powder
1/2 teaspoon onion powder
1 cup texturized vegetable protein TVP
2 tablespoons safflower or other neutral-tasting vegetable oil
Instructions
In a medium bowl, whisk together the boiling water, tamari, maple syrup, liquid smoke, ketchup, garlic powder, and onion powder. Mix in the TVP and stir until it is evenly coated.

Heat the oil in a large skillet (preferably cast iron). Add the TVP and cook until it is dry, dark brown, and crispy, 8 to 10 minutes. Stir frequently to prevent burning.

Remove the skillet from the heat and allow the TVP to cool. Store Baconish Bits in an airtight container about 1 week.
Hope you enjoy this easy vegan recipe!
Share your experience