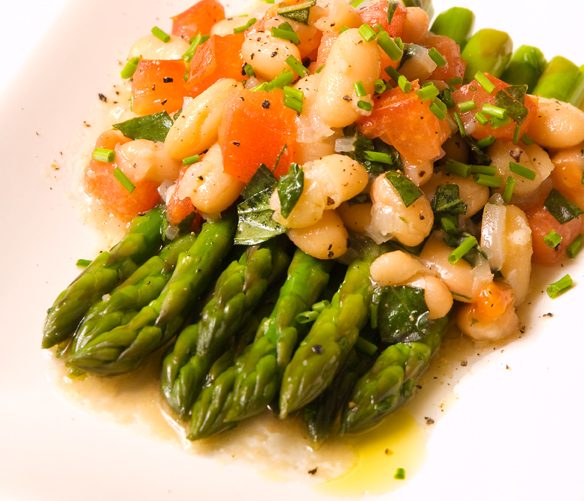 Asparagus with Cannellini
Thanks to Alan Roettinger for sharing this easy vegan dinner recipe from his book, Speed Vegan, published by Book Publishing Company.   It's a beautiful and delicious dish for company!

Asparagus with Cannellini
Servings: 4
Ingredients
1 tablespoon plus 1/4 teaspoons sea salt
2 tablespoons extra-virgin olive oil
1 cup finely diced onion
2 cloves peeled garlic
1 can 15 oz. cannellini beans, with liquid
1/2 teaspoon red wine vinegar
1/4 teaspoon freshly ground black pepper
1 pound asparagus spears trimmed uniformly to about 6 inches in length
1 medium-size ripe tomato cut into 1/2-inch dice
1/4 cup coarsely chopped fresh basil
2 tablespoons flax oil
1 tablespoon snipped fresh chives optional
Instructions
Fill a large pot with water. Add 1 tablespoon of the salt. Cover and bring to a boil over high heat.

Meanwhile, put the olive oil in a large pan over medium-low heat. Add the onion, stirring well. After 1 – 2 minutes, when the onion juices begin to flow, squeeze the garlic through a garlic press directly into the pan.

Add the cannellini beans and their liquid along with the vinegar, pepper, and remaining 1/4 teaspoon of salt. Stir thoroughly but gently, to avoid crushing any of the beans. Bring to a simmer, and then decrease the heat to very low and cover. Continue to cook, stirring often, while you prepare the asparagus.

When the pot of water comes to a rolling boil, drop in the whole asparagus spears and stir once. Depending on the thickness of the asparagus, they should be tender-crisp in about 1 minute. When they are done to your satisfaction, drain well.

Remove the beans from the heat and stir in the tomato, basil, and flax oil.

Divide the asparagus among 4 plates. Top with the bean mixture. Garnish with the chives, if using. Serve at once.
Hope you enjoy this easy vegan recipe!
Share your experience