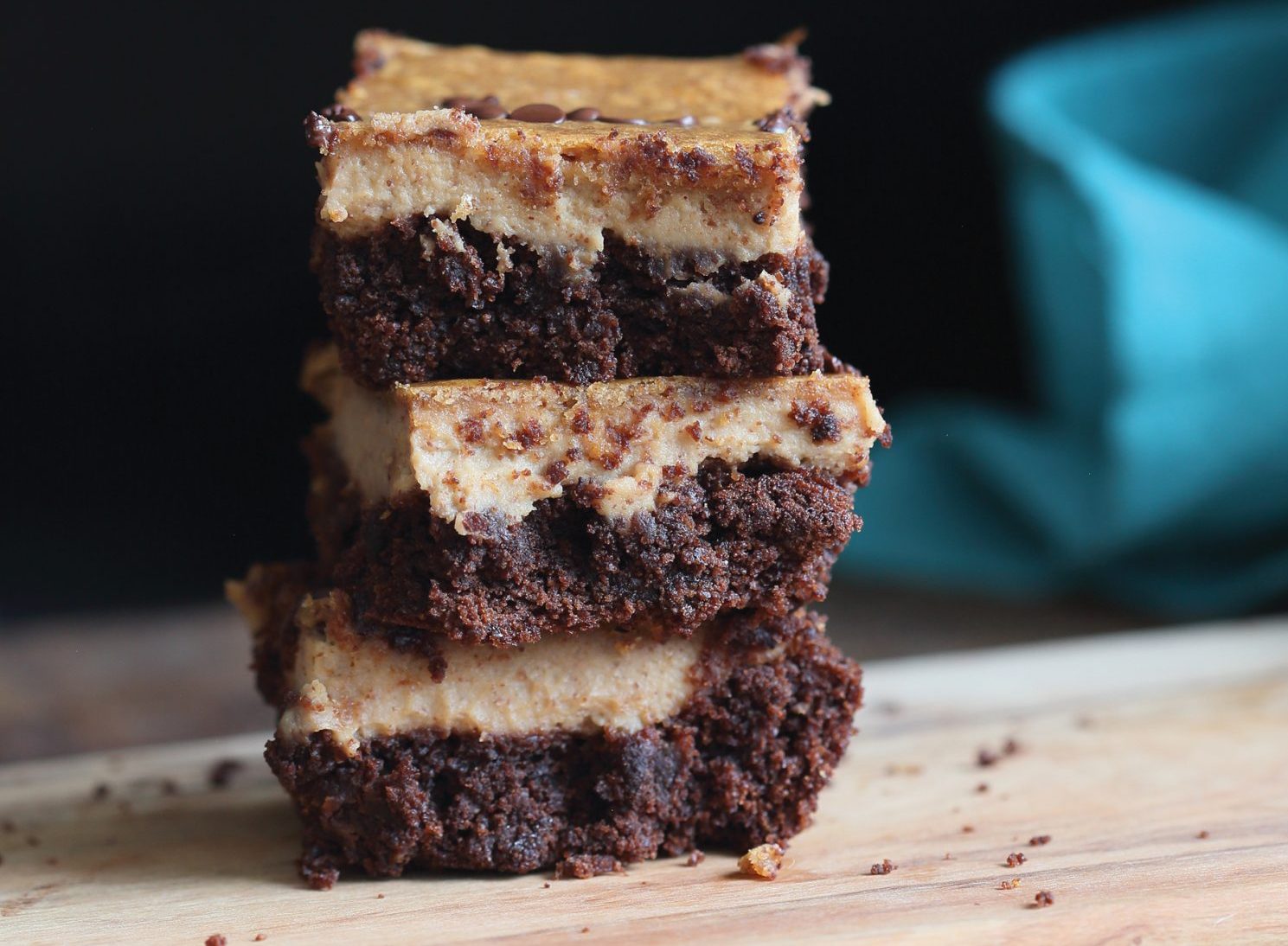 Almond Butter Cheesecake Brownie Bars
Vegan cheesecake brownie bars!!! This easy vegan recipe is perfect for parties, lunchtime treats, and any time at all :) 
These vegan cheesecake brownie bars are a two-in-one dessert. The nut butter cheesecake layer is smooth and creamy and the brownie layer is chocolatey. The serving size makes a loaf pan that helps portion control. The brownies, when baked a bit longer than done, bake up cakey but get fudgy during the chilling time. Double the recipe to make a larger pan or make just the cheesecake layer and bake it into your favorite pie crust.
From Vegan Richa's Everyday Kitchen copyright © 2017 by Richa Hingle. Used by permission Vegan Heritage Press.
Looking for more easy recipes? Check out the entire Yummy Plants vegan recipe collection. There are gluten-free vegan recipes too!
Running out of time to cook? Visit the Vegan Food Reviews section to discover vegan products you can buy online or in stores. You'll find reviews for vegan desserts, snacks, dairy and meat alternatives, and frozen/ packaged meals. I share vegan food that tastes good. These products are all #YummyPlantsApproved!
Are you a beginner vegan? Visit the Start Here page for tips to help support your vegan journey or pick up a copy of It's Easy to Start Eating Vegan.

Almond Butter Cheesecake Brownie Bars
Servings: 6
Ingredients
Brownies
1/4 cup 60ml maple syrup
2 to 3 tablespoons 24 to 36g coconut sugar or other sugar
3 tablespoons 48g smooth almond butter
1/4 cup 60ml almond milk or other nondairy milk
1/2 teaspoon vanilla extract
1/4 teaspoon baking soda
1 teaspoon ground flax seed optional
1/2 cup 60g oat flour or unbleached all-purpose flour
2 tablespoons 14g unsweetened cocoa powder
Pinch salt
2 to 3 tablespoons 20 to 30g nondairy semisweet chocolate chips
Cheesecake
2/3 cup 160ml nondairy plain or vanilla yogurt
1/4 cup 65g smooth almond butter
1/2 teaspoon vanilla extract
2 to 3 teaspoons fresh lime juice or lemon juice
1 tablespoon cornstarch
1/8 teaspoon salt
3 tablespoons 36g coconut sugar
2 tablespoons 20g nondairy semisweet chocolate chips
Instructions
Preheat the oven to 350°F (180°C). Grease a 9 x 5-inch (23 x 13cm) loaf pan (or line it with parchment paper).

Brownies: In a medium bowl, combine the maple syrup, sugar, almond butter, milk, vanilla, baking soda, flax seed (if using), flour, cocoa, and salt, stirring to combine. Pour the brownie batter into the loaf pan. Sprinkle the top of the batter with the chocolate chips. Bake for 11 to 13 minutes, or until the center is set.

Cheesecake: In another medium bowl, combine the yogurt, almond butter, vanilla, lime juice, cornstarch, salt, and sugar. Taste and add more lime juice and sugar if needed (keep in mind that the lime juice will taste stronger after baking).

Take the brownies out of the oven and pour the cheesecake mixture over the brownies. Sprinkle the top of the cheesecake with the chocolate chips. Bake for 25 minutes, or until the center of the cheesecake is set. Cool completely and chill for at least 30 minutes. Slice and serve.
Hope you enjoy this easy vegan recipe!
Share your experience