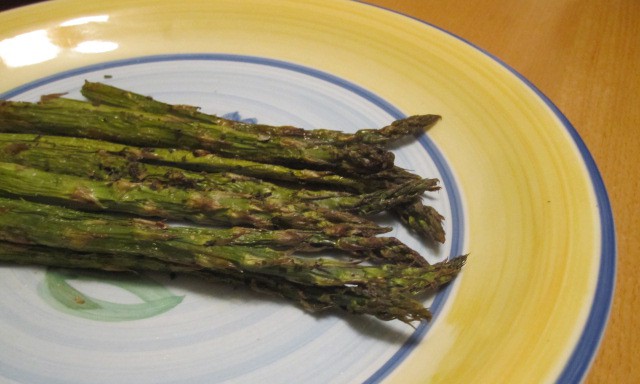 Amazing Asparagus!
Spring has sprung! And that means the return of asparagus, one of our favorite spring veggies. Asparagus is a very special veggie – it gets 50% of its calories from protein! Guest blogger and Nutrition Educator, Kimberly Hanley, is sharing her thoughts about this vitamin packed vegetable.
Asparagus is good news for people looking to strengthen bones, reduce sodium, or lose weight. Not only is asparagus a super yummy low-calorie food, but it also boasts high levels of vitamin K and potassium. According to World's Healthiest Foods by the George Mateljan Foundation, one cup of asparagus contains only 24 calories with 50% of those calories supplied from protein (4.6 g) and almost 3 g of dietary fiber (11% daily value).
Asparagus is a great food to incorporate for people watching their blood pressure because of its high potassium to sodium ratio. A 15-year cardiovascular disease research study by Dr. Paul Whelton of Loyola University Health System found that a diet low in sodium and high in potassium is associated with lower blood pressure.
Asparagus is also very rich in Vitamin K: one cup contains 114% of the US RDA. Vitamin K is often neglected, but it's an important part of our diet because it helps to promote bone mineralization. Adult women need 90 mcg per day and adult men need 120 mcg per day.
Note: Individuals with known kidney stone or gout issues should limit the amount of purine-containing foods, like asparagus, in their diets to less than 150 mg of purine per day. About 10 stalks (100 g) of asparagus contain 23 g of purine. Purines will break down into uric acid and an excess can exacerbate their tendency to form kidney stones or have flair-ups of gout. You can find more information about the purine levels in asparagus at www.whfood.org.
My favorite way to eat asparagus is roasted with olive oil and Fines herbes!
Preheat oven to 400 degrees Fahrenheit.  Arrange a bunch of rinsed, trimmed asparagus spears on a baking sheet. Lightly drizzle olive oil, Fines herbes, salt & pepper to taste over spears and roast for 12 minutes. Yummy!
Learn how to grow your own asparagus!
Kimberly Hanley is a graduate from the Bauman College of Holistic Nutrition and Culinary Arts in the Northern San Francisco Bay Area. Good health is her passion, good taste is the key. She can be reached at foodpixie@hotmail.com.