Fridge Stocking Strategies for 5-Minute Vegan Meals #2
Whether you're single or you have a family to feed, 5 minute vegan meals are a healthy option for putting some delicious food on the table… fast!
This 5 minute meal contains:
A Starter: Salad filled with yummy extras like olives and avocado
A Soup: dairy-free creamy vegetable
A Main course: a millet, kale, squash, hemp seed and potato dish
When you look at the photo, it seems impossible that it would only take 5 minutes.But here's the secret: it's all about stocking your fridge on the weekend when you have more time.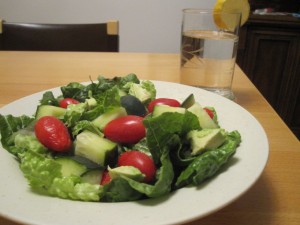 Salad – prep time 2 minutes
Aside from the lettuce, tomato and cucumber basics, make sure to have extras in the house that will create an interesting salad.  Keep a pantry filled with items like olives, sunflower seeds, avocado, dried cranberries, walnuts, croutons and anything that transforms a regular boring salad into something that you're really excited about eating.
Creamy Dairy-free Vegetable Soup – heat time 2 minutes and garnish with fresh parsley
It all starts with a good homemade soup broth.   Veggie broth is easy to make on the weekends. You can keep it in the fridge to use later in the week. Fresh broth lasts about a week and can be eaten as an actual soup or used as a base for cooking grains.
Strain the vegetables after cooking.  Keep some of the sliced vegetables to eat in the soup and puree some in the blender to add back into the soup later.  The pureed vegetables have the same effect as a nut cream.  They'll will make your soup rich and creamy without adding dairy. Swapping pureed vegetables for milk will the calories and cholesterol… without reducing the taste!
Millet Delight – heat time 1 minute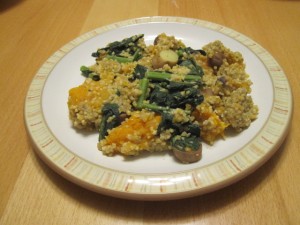 The trick is to make a bit extra when you're cooking a main course.  Then you will always have some yummies in the fridge to make a 5 minute vegan meal!  The Millet Delight was from an original dinner of millet cooked in homemade veggie broth, oven roasted butternut squash, and kale leaves moistened with fresh lime juice. I sautéed it all with a bit of garlic and olive oil. Then I finished with hemp seeds and some wheat-free tamari.  You could heat this in a skillet while the soup is heating in the microwave.
See, when you break it down, it's a cinch to create 5 minute vegan meals. It just takes a bit of planning when you're shopping and cooking on the weekends.
Do you have a favorite 5-minute meal?  I'd love to hear about it!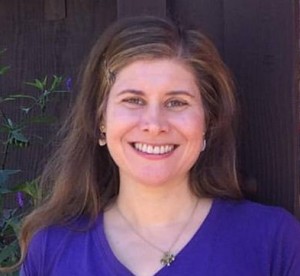 Rebecca Gilbert is the founder of Yummy Plants and the author of It's Easy to Start Eating Vegan. She's a former competitive figure skater whose switch to a vegan diet healed her chronic joint pain. Rebecca has been a featured speaker at events including the World VegFestival in San Francisco, Vegetarian Summerfest, the New York City Vegetarian Food Festival, and Paris Vegan Day. She has presented on live television and given corporate talks about healthy eating. Book Rebecca to speak at your organization.