Easy Vegan Food Changes
As I walk through the grocery store aisles, I see vegan cheese puffs and cookies and all kinds of delights!  I can make lattes with frothy creamers and create a compassionate, cholesterol-free chicken salad. This is truly a time when it really is easy to start eating vegan.
I was very excited to be back on Pittsburgh Today Live to share ideas about cholesterol-free eating in the new year. The good news is that ALL plant-based foods are cholesterol-free. I brought in some of my favorite products to sample and share. I wanted to demonstrate how to make easy, delicious changes that are better for our health, for our planet, and definitely better for the animals.
We started with No Chicken Salad, a recipe from my book It's Easy to Start Eating Vegan. I LOVE this stuff! It's made with vegan chicken from Beyond Meat, Vegenaise, celery, apple and lemon juice… soooo easy! And it takes just a few minutes to make. I am so grateful for Beyond Meat plant-based chicken and beef products. Here's why I use the Beyond Meat products in my recipes:
First and foremost – these products are delicious! The Today Show hosts taste tested and couldn't tell the difference!
Non-GMO – always.
Plant-based protein with soy-based and soy-free alternatives.
Innovation: delicious, carbon footprint friendly new products keep appearing like the new vegan Beast Burger!
We wrapped up the discussion about the No Chicken Salad recipe and taste test with the host saying that the recipe was great and would have thought that my plant-based protein was chicken.  Yay! Score one for team vegan :)
 Then we moved to my favorite plant milk company, 
So Delicious
, and sampled their unsweetened coconut milk. If you've never tried it, their coconut milk doesn't actually taste like coconut at all! It has the mouth feel of dairy, so it's rich, creamy, and delicious. But is has a neutral flavor, is much lower in sugar, and is cholesterol-free. Some quick notes about coconut milk vs dairy:
Environment: It takes about 1000 gallons of water to produce 1 gallon of dairy milk vs. just 3.7 gallons of water to produce a gallon of coconut milk! (With about 7.125 BILLION people on the planet, we really need to use our water wisely!)
Sugar: Skim dairy milk has about 12g of sugar vs. less than 1 g in unsweetened coconut milk.
Cholesterol: Skim dairy milk has about 12g of cholesterol vs. ZERO g in coconut milk.
Calories: Skim dairy milk has about 103 calories vs 45 in coconut milk.
I also shared my favorite breakfast treat: Plain So Delicious yogurt topped with fruit, hemp seeds, and raw cacao nibs. Seriously, I eat this almost every day for breakfast. And it is truly Soooo Delicious. :)
Continuing on with dairy, we discussed vegan butter by Earth Balance. I always talk about Earth Balance buttery spread with new vegans. Why?
It tastes DELICIOUS – plain on bread or in cookies/ sauces.
It works well as a 1-1 substitute for cooking and baking.
Their palm oil is certified sustainably sourced, so my purchase and lifestyle choices are supporting a safe habitat for the orangutans.
Earth Balance buttery spread, and all of their products, are free from casein. (Some dairy-free butter substitutes do contain casein, which for me causes an inflammatory response and joint pain).
Since I was introducing the audience to delicious vegan foods that are cholesterol-free, I thought it would be fun to share some party-worthy snacks. Out came the Earth Balance vegan cheese puffs and cheddar squares… oh so yummy!!  I'm glad I was on TV, because if not, I would likely have eaten the whole bag of cheese puffs… really. (Here's a video of some of my friends trying Earth Balance vegan cheese puffs for the first time. They couldn't believe how yummy these puffs are!)
There are so many delicious plant-based foods out there. If you've been thinking about going vegan, now is a great time to start. Pick up a copy of It's Easy to Start Eating Vegan or browse the Yummy Plants database for ideas.  You're not alone. You do have support. If you have any questions, ask the Yummy Plants community and post questions on our Facebook page. I wish you a fabulous journey!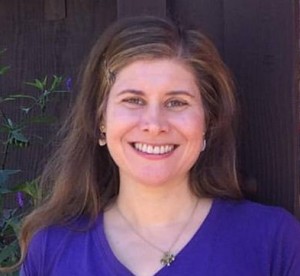 Rebecca Gilbert is the founder of Yummy Plants and the author of It's Easy to Start Eating Vegan. She's a former competitive figure skater whose switch to a vegan diet healed her chronic joint pain. Rebecca has been a featured speaker at events including the World VegFestival in San Francisco, Vegetarian Summerfest, the New York City Vegetarian Food Festival, and Paris Vegan Day. She has presented on live television and given corporate talks about healthy eating. Book Rebecca to speak at your organization.