Click & Grow Indoor Garden: Growing My Own Yummy Plants in Winter!
I added some joy to my winter with a Click & Grow indoor garden and I'm having the best time growing my own yummy plants!
I live on the East Coast. Winters are cold and trees are bare. I had been growing basil, parsley and mint all summer and I loved having fresh herbs available at my fingertips.
Once winter came, I moved my plants inside, but I didn't have enough light on my windowsills to help them thrive. I really missed watching my plants grow and enjoying their bountiful harvest, So, I decided to research indoor gardens.
In the end, I went with the Click & Grow indoor garden (Smart Garden 3).
Here's what I love about my new indoor garden:
Compact: Weighs less than 3 pounds and fits in a cozy corner (approx. 12″ wide x 5″ deep).
Ease of use: I literally just added water, the seed pods, and plugged it in.
Eco-friendly: The packaging is recyclable and bidegradable and the seeds are organic.
Fast growth: In just one week, I had visible basil plants!
Real soil: The organic seed pods are soil-based (vs hydroponic). I like my herbs growing in dirt, lol.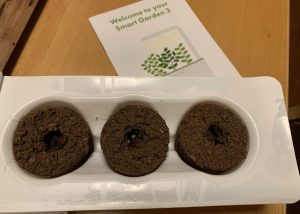 I'm actually amazed at how easy it is to grow basil indoors with the Click & Grow system. Growing my basil plants with my Smart Garden is actually easier than growing plants outside! I added water to the reservoir on day 1, placed the seed pods, plugged the unit in, and I haven't touched it since – except to greet my basil seedlings each morning :)
The garden is on a timer, so the lights are on for 18 hours and off for 6 hours. My seedlings are getting plenty of light and water all from my Smart Garden!
The tank holds 40 oz of water, enough for about 3 weeks. And the unit comes with a float marker to clearly tell me when to add more water. I placed the seed pods in the unit with special removable caps to help the germination process.
After about 3 days, I had visible seedlings and removed the caps. And in about a week, I had large seedlings coming up out of the top of the seed cups! My basil plants grew so fast!
This is my first experience growing with an indoor garden of any kind. And I am thrilled! I'm already looking into the Smart Garden 27 so I can grow all of my own veggies!
Stay tuned for more stories as I experiment with indoor gardening… :)
UPDATE:
Click and Grow is now launching a Kickstarter for a Smart Garden 25. It's a pretty cool product! This Smart Garden is geared towards fast growing greens, (although it can grow any of their organic seed pods).
The idea is that you can grow different lettuces/ greens and harvest them each week. YUM! The unique system is designed with removable trays so that you can pull out the "ready" greens and insert a new tray to start seedlings.
I love my Smart Garden 3 and thoroughly enjoyed having fresh basil at my fingertips all winter. I haven't decided yet whether or I'm getting a Smart Garden 25, but it does look VERY interesting. The Click and Grow Kickstarter ends on June 10.
---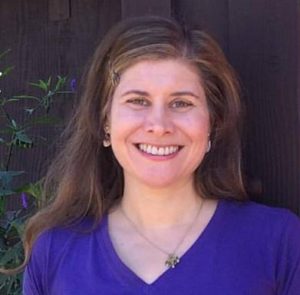 Rebecca Gilbert is the founder of Yummy Plants and the author of It's Easy to Start Eating Vegan. She's a former competitive figure skater whose switch to a vegan diet healed her chronic joint pain. Rebecca has been a featured speaker at events including the World VegFestival in San Francisco, Vegetarian Summerfest, the New York City Vegetarian Food Festival, and Paris Vegan Day. She has presented on live television and given corporate talks. Book Rebecca to speak at your organization.