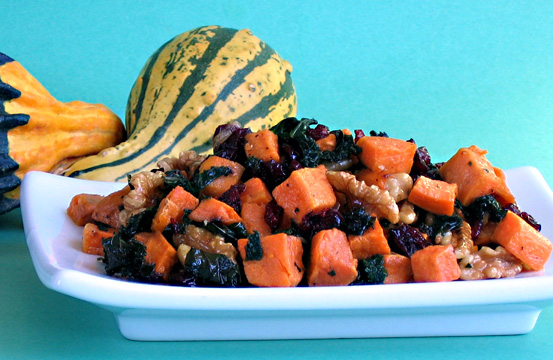 A Very Vegan Thanksgiving with Robin Robertson
Thanksgiving is that magical time of year when friends and family gather to celebrate shared connections, express gratitude, and to enjoy home-cooked meals in a warm and festive environment. You may already be thinking: What kind of meal do I make? How do I cook it? Will my guests like what I serve? Thankfully, there are resources aplenty for those who want to prepare delicious, comforting, plant-based meals that will satisfy guests of all dietary persuasions.
Blogger, magazine columnist, and recipe developer Robin Robertson is one trusted resource to turn to when seeking culinary guidance, no matter the occasion. Robin has penned more than a dozen cookbooks and she's also the author Party Vegan, a tome dedicated to all of our food-centric celebrations.
Robin says that taking the traditional approach is one of the many ways to ensure everyone at the holiday table is satisfied. "I've found that you can veganize virtually any traditional dish using vegan ingredients and it can taste just as good or even better than the original," she says. "Stuffing and gravy can be made with vegetable broth, and mashed potatoes and other side dishes can be made with vegan butter."
Visual appeal is as critical to a successful holiday dining experience as the flavor of the food, says Robin. "I like to serve fabulous appetizers like artichoke pastry puffs or stuffed mushrooms, and desserts designed to dazzle, like pumpkin cheesecake," she says. "I also serve a centerpiece-type dish on holidays–usually it's a stuffed seitan roast wrapped in puff pastry–that always wows the crowd at the table, even the omnivores."
One of Robin's go-to recipes for the holidays is this sweet potato, kale, cranberry, and pecan mélange that conjures all of the wonderfully sweet and savory flavors of the autumn harvest. "It's a wonderful combination of colors, textures, and flavors and it makes a perfect addition to the Thanksgiving table."  After you've mastered this amazing dish, look for more delicious recipes on Robin's own website: RobinRobertson.com.
Roasted Sweet Potatoes and Kale with Pecans and Cranberries
Ingredients
1 1/2 pounds sweet potatoes
3 medium shallots, halved lengthwise
1/2 teaspoon dried oregano
Salt and freshly ground black pepper
Olive oil
6 large kale leaves, washed and dried
1/3 cup toasted walnut or pecan pieces
1/3 cup sweetened dried cranberries
Preparation
1. Preheat the oven to 425 degrees F. Peel the sweet potatoes and cut them into 1/2-inch dice and transfer to a large bowl. Cut the shallot halves into thin slices and add to the bowl along with the oregano.
2. Season with salt and pepper, drizzle about 1 tablespoon of olive oil over the sweet potato mixture and toss to coat.
3. Spread the mixture in a single layer on an oiled rimmed baking sheet and bake for 30 minutes or until the potatoes are tender and lightly browned, turning once about halfway through.
4. Roll the kale leaves into a tight roll and cut crosswise into thin ribbons. Transfer to a bowl, drizzle with a little olive oil and season with salt and pepper.
5. Spread the kale on an oiled baking sheet and place in the oven when the sweet potatoes are about halfway done roasting until the kale is crisp and lightly browned, about 15 minutes.
6. To serve, transfer the sweet potatoes to a bowl, add the nuts, cranberries, and kale and sprinkle with a few grinds of black pepper. Toss gently to combine. Serve hot.