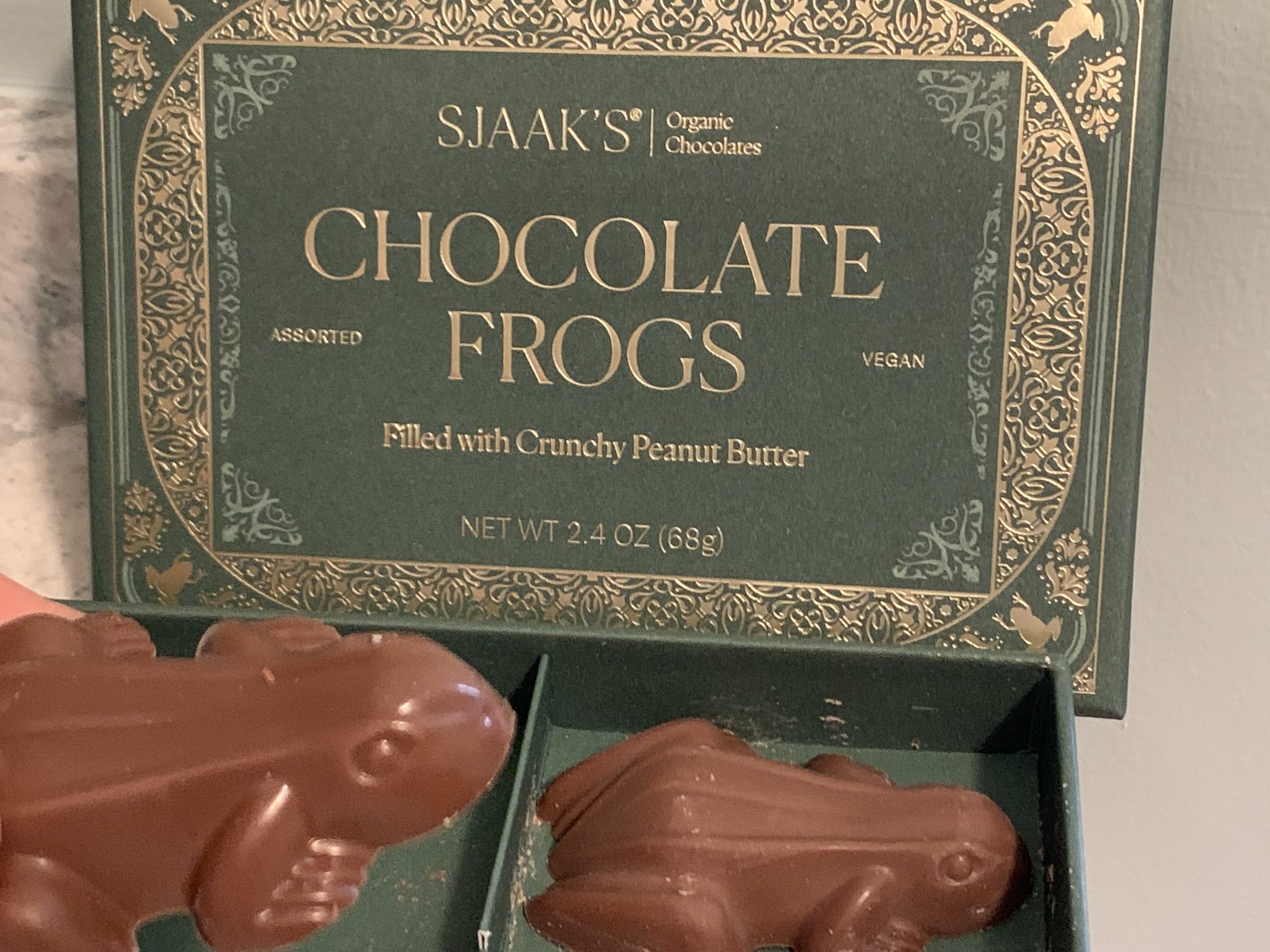 Halloween Candy That's Vegan and Organic
Looking for ghoulish vegan goodies for Halloween? I found adorable Halloween candy that's vegan and organic from Sjaak's organic chocolates! Their website has everything from 1oz trick or treat bars to sweet party favors like chocolate frogs with peanut butter crunch, raspberry caramel filled skull pops, and white chocolate ghosts filled with green apple slime. And Sjaak's is a small woman-owned business!
Their website says orders need to be placed by October 18th to guarantee delivery in time for Halloween. Try coupon code YUMMY for a 5% discount!
Here are my five favs:
1. White chocolate skulls filled with raspberry caramel 
It's really hard to find good vegan white chocolate. I was really excited to find these caramel filled white chocolate skulls!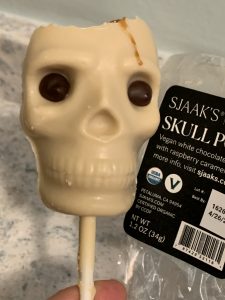 2. Chocolate Frogs filled with Peanut Butter Crunch
Celebrate Harry Potter and Halloween with vegan chocolate frogs! This 4-piece set has one dark chocolate frog, one white chocolate frog and two melk chocolate frogs. These made me smile with every bite!
3. Pumpkin Spice Melk Chocolate Bites
WHOA! These tasted like chocolate covered pumpkin caramels. Super yummy! The description on the Sjaack's website says, "…organics pumpkin pie truffle covered in dairy-free melk chocolate." If you're a caramel fan, rejoice! In my opinion, the filling had a soft caramel texture rather than a creamy truffle texture.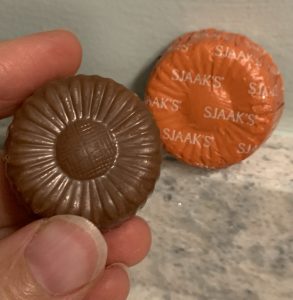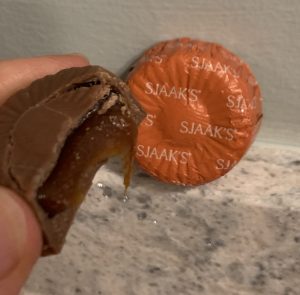 4. Horsemeeple of the Apocalypse
Sjaak's has a sweet take on the horsemen legend with their "Horsemeeple" in 4 flavors:
Cinnamon Salted Caramel in Coconut Milk Chocolate
Peanut Butter filled Melk Chocolate
Cranberry filled White Chocolate
Orange filled Dark Chocolate
I absolutely loved these Horsemeeple visually and for their flavor profile. Note: the Cinnamon salted caramel flavor is paleo vegan!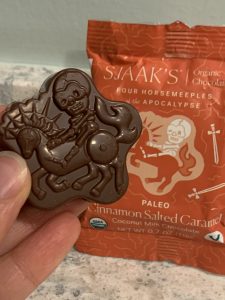 5. 1 Oz Trick or Treat bars
These individually wrapped 1 ounce mini chocolate bars are perfect for a small treat – any time of the year! They're sold in a vegan trick or treat assortment or as individual bars. These delightful beauties come in 3 flavors:
All of these Sjaak's Halloween candies were delicious! The chocolate was rich and creamy and the flavor blends delighted me. Plus these beauties were organic! It's hard to find vegan organic Halloween candy and I was thrilled to find these tasty treats :)
I hope you have a Halloween filled with laughter and lots of treats!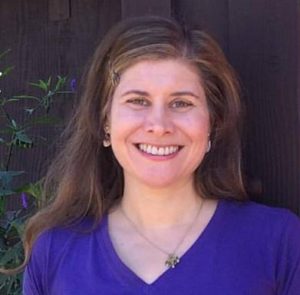 Rebecca Gilbert is the founder of Yummy Plants and the author of It's Easy to Start Eating Vegan. She's a former competitive figure skater whose switch to a vegan diet healed her chronic joint pain. Rebecca has been a featured speaker at the World VegFestival in San Francisco, Vegetarian Summerfest, the New York City Vegetarian Food Festival, and Paris Vegan Day. She has presented on live television and given corporate talks. Book Rebecca to speak at your organization.