Vegan friendly restaurant
China Palace – Shadyside - Pittsburgh, Pennsylvania
Get the Details!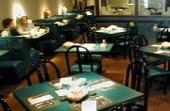 I LOVE the new China Palace on Walnut in Shadyside! They completely redecorated the restaurant last year and now it has a bright picture window in the front. I'm the only one in my family who is a vegan and this has become our go-to restaurant where everyone can have something great to eat. Their vegan chicken and beef are DELICIOUS! They also have lots of great sauteed veggie dishes too. It's one of my favorite places for casual dining in the city.
Let us know what you think about this awesome vegan friendly restaurant: China Palace – Shadyside in Pittsburgh, Pennsylvania.
2 Responses to "China Palace – Shadyside"