Vegan Brands: It's Easy to Start Eating Vegan
Vegan Dairy
Butter:
Earth Balance, Miyoko's Kitchen, Nutiva, Spectrum (shortening, for baking)
Cheese:
Daiya, Field Roast, Follow Your Heart, Go Veggie, Heidi Ho, Kite Hill, Miyoko's Kitchen, Treeline, Vtopian Artisan Cheeses
Creamer:
Calafia, Silk, So Delicious Dairy Free, Stonyfield Organic
Ice cream:
Almond Dream, Cashewtopia, Coconut Bliss, Nada Moo, Rice Dream, So Delicious Dairy Free, Tofutti
Mayonnaise:
Earth Balance, Fabanaise, Just Mayo, Vegenaise
Milk:
Almond Breeze, Calafia, Dream, Earth Balance, Edensoy, Elmhurst, Engine 2, Good Karma, Living Harvest Tempt, Organic Valley, Pacific, Silk, So Delicious Dairy Free, Westsoy
Sour cream and cream cheese:
Daiya, Follow Your Heart, Tofutti
Whipped cream:
CocoWhip, Soyatoo (soy and rice base)
Yogurt:
Daiya, Silk, So Delicious Dairy Free, Stonyfield Farm O'Soy
Eggs
Mock Meats
Beef:
Beyond Beef, Boca, Field Roast, Gardein, Match
Chicken:
Beyond Meat, Boca, Gardein, Match, Morningstar Farms*, Tofurky
Pork:
Field Roast, Lightlife, Match, Yves
Seafood:
Match, Sophie's Kitchen
* Morningstar Farms makes both vegan and vegetarian products. Check the package carefully for egg or milk ingredients.
Dressings and Sauces
BBQ and Ketchup
Annie's BBQ, OrganicVille
Salad Dressing:
Annie's Naturals, Bragg, OrganicVille
Soy Sauces:
Bragg Liquid Aminos, Coconut Secret Raw Organic Vegan Coconut Aminos (soy-free "Soy" sauce), San J Tamari Soy Sauce
New vegan brands and products are popping up every day. It's an exciting time to be a vegan!
Order It's Easy to Start Eating Vegan today!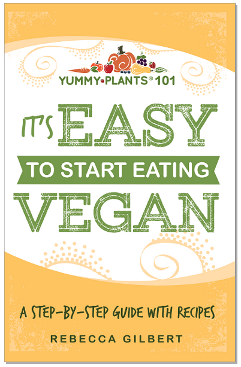 It's Easy to Start Eating Vegan is a beginner's guide to help you start eating vegan today! Learn more or purchase below.


$14.95
*To ship to Canada or for bulk orders please contact us.