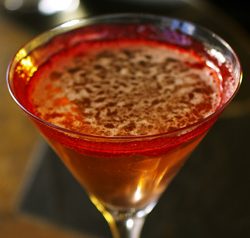 Vegan Cocktails
Have you ever wondered how to make a vegan "Baileys" or "Mudslide"?  Would you like a "creamy" alcoholic or non-alcoholic vegan drink?  Missing an old favorite?  Veganize your favorite drinks!
With all the great dairy substitutions on the market today, it's a snap to veganize your favorite cocktails.  (Note: check out this story on vegan sugar in case your cocktail calls for sweets.)
Vegan "Baileys" or Irish cream liqueur variations can be created with coconut milk, coconut cream, or soy creamer.  Add some brandy, espresso and chocolate syrup to plant-based milks and you can make vegan versions of cream drinks such as Irish Coffee, Mudslides, or Chocolate Martinis. YUM!
Is Kahlua and Cream your favorite drink?  Add unsweetened Nut Pods creamer instead of milk, or try one of the flavored Nut Pods creamers like vanilla or hazelnut to add a new twist.  Kahlua's coffee flavor makes it a popular base for mixed drinks.  Try mixing with Kahlua with Frangelico or vegan hot chocolate.
Another tip for creating super yummy vegan cocktails is to infuse liquor with your favorite fruit or vegetable.  Serve up some raspberry vodka or cherry sake.  Infuse vodka, gin, sake, or clear rum with your favorite herbs, spices, teas, fruits or veggies.  The sky's the limit.  Use your imagination to create your own signature vegan cocktail!
If you're looking for some inspiration, Drinkstreet.com has over 1500 drink recipes.  And Barnivore.com has great information about vegan beer, wine and liquor.  Cheers!