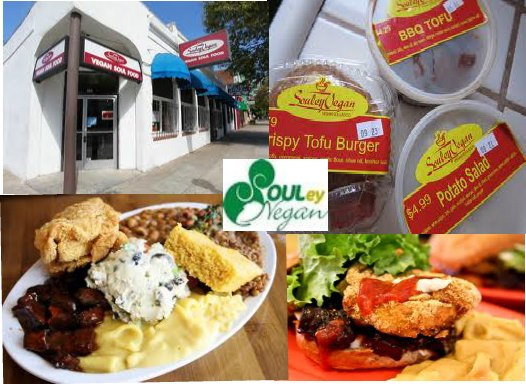 Souley Vegan
Rich, southern soul food isn't exactly the cuisine most people imagine when they think of vegan food. But this is exactly the delicious vegan treat you'll get when you visit Souley Vegan in downtown Oakland, CA.  Home of authentic vegan soul food, the southern atmosphere of the restaurant is cozy and chic, and all food is soley vegan!  The entire restaurant is free of meat and dairy.
Tamearra Dyson, owner of Souley Vegan, is a vegan, and has been since her teenage years. She enjoys her family's tradition of making and sharing quality foods. Her goal with Souley Vegan is to provide southern style dishes in a family atmosphere with a healthy twist.
Her menu is full of options and patrons can choose meals with different traditional soul food sides, all vegan of course. Enjoy BBQ tofu with a side of vegan potato salad. Finish it with cheese-less cheesecake. The bar also serves specialty cocktails.
Souley Vegan was voted the best vegetarian restaurant of 2010 in East Bay by Oakland Magazine and the best vegetarian/ vegan restaurant of 2011 (in the East Bay) by the East Bay Express. We can't wait to try this restaurant on our next trip to the Bay!