Woodstock Butternut Squash Ravioli
Looking for a quick, easy and yummy 5-min meal? I LOVED these vegan Woodstock organic butternut squash ravioli! They're also onion and garlic-free… which can be so hard to find.
I cooked these cuties up, drizzled with olive oil and topped with fresh basil. They taste like little soft dough pillows with hints of nutmeg and rosemary peeking out from the sweet squash filling. You can also add your favorite sauce, but I didn't want to bury the subtle sweet flavors.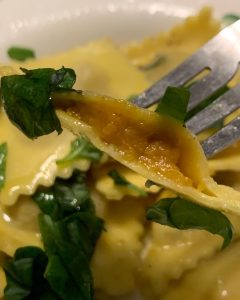 I paired the pasta with  a cup of broccoli soup for a cozy, filling meal that was on the table 10 minutes after I arrived home from work. You could also pair with fresh crusty bread, a rainbow salad, or even some roasted vegetables. I try to eat as many fresh foods as I can, but sometimes I just don't have the time or energy to cook. Delicious packaged vegan meals like this, with just a few ingredients, really help me out after a long day.




Here's what I love about Woodstock organic butternut squash ravioli:
They are SO yummy and cook in less than 5 minutes!
These ravioli are an authentic product of Italy – Che buono!
It's an 100% organic product, so we help keep pesticides out of the groundwater.
The flavors are subtle, but not boring. A bit of fresh parsley, or basil, can dress this dish up for company.
The Woodstock Foods company is dedicated to providing non-GMO and organic products.
I was very excited to find this product. Thanks, Woodstock Foods for making these onion and garlic-free squash vegan ravioli for all of us!
Rebecca Gilbert is the founder of Yummy Plants and the author of It's Easy to Start Eating Vegan. She's a former competitive figure skater whose switch to a vegan diet healed her chronic joint pain. Rebecca has been a featured speaker at events including the World VegFestival in San Francisco, Vegetarian Summerfest, the New York City Vegetarian Food Festival, and Paris Vegan Day. She has presented on live television and given corporate talks. Book Rebecca to speak at your organization.