Vegan Goat Cheese by Spero
Earthy and tangy, this vegan goat cheese by Spero is spot on with texture and flavor. Here's a neat twist: this tasty treat is made from organic sunflower seeds!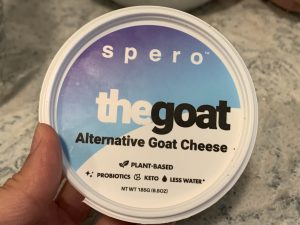 Here's what I love about this vegan goat cheese alternative:
It's made with just 6 ingredients and don't use palm-oil.
 Plant-based, Keto and Allergen-friendly.
It can be frozen for storage and then thawed when you need it. (Party!!!)
I love Spero's mission to make dairy alternatives less expensive than dairy itself. How? They use seeds! Seeds are 7-8x less expensive than nuts. And seeds grow 50-70x faster than nuts! Kudos to Spero for making delicious cheese alternative products that use less water, space and labor and taste oh so yummy!




---
Looking for more vegan foods? Visit the Vegan Food Reviews section to discover more products you can buy online or in stores. You'll find products for vegan desserts, snacks, dairy and meat alternatives, and frozen/ packaged meals. I share vegan food that tastes good. These products are #YummyPlantsApproved!
Prefer to cook, bake, and make your own vegan snacks? Check out the Yummy Plants easy vegan recipe collection.
Are you a beginner vegan? Visit the Start Here page for tips to help support your vegan journey or pick up a copy of It's Easy to Start Eating Vegan.
Rebecca Gilbert is the founder of Yummy Plants and the author of It's Easy to Start Eating Vegan. She's a former competitive figure skater whose switch to a vegan diet healed her chronic joint pain. Rebecca has been a featured speaker at the World VegFestival in San Francisco, Vegetarian Summerfest, the New York City Vegetarian Food Festival, and Paris Vegan Day. She has presented on live television and given corporate talks. Book Rebecca to speak at your organization.