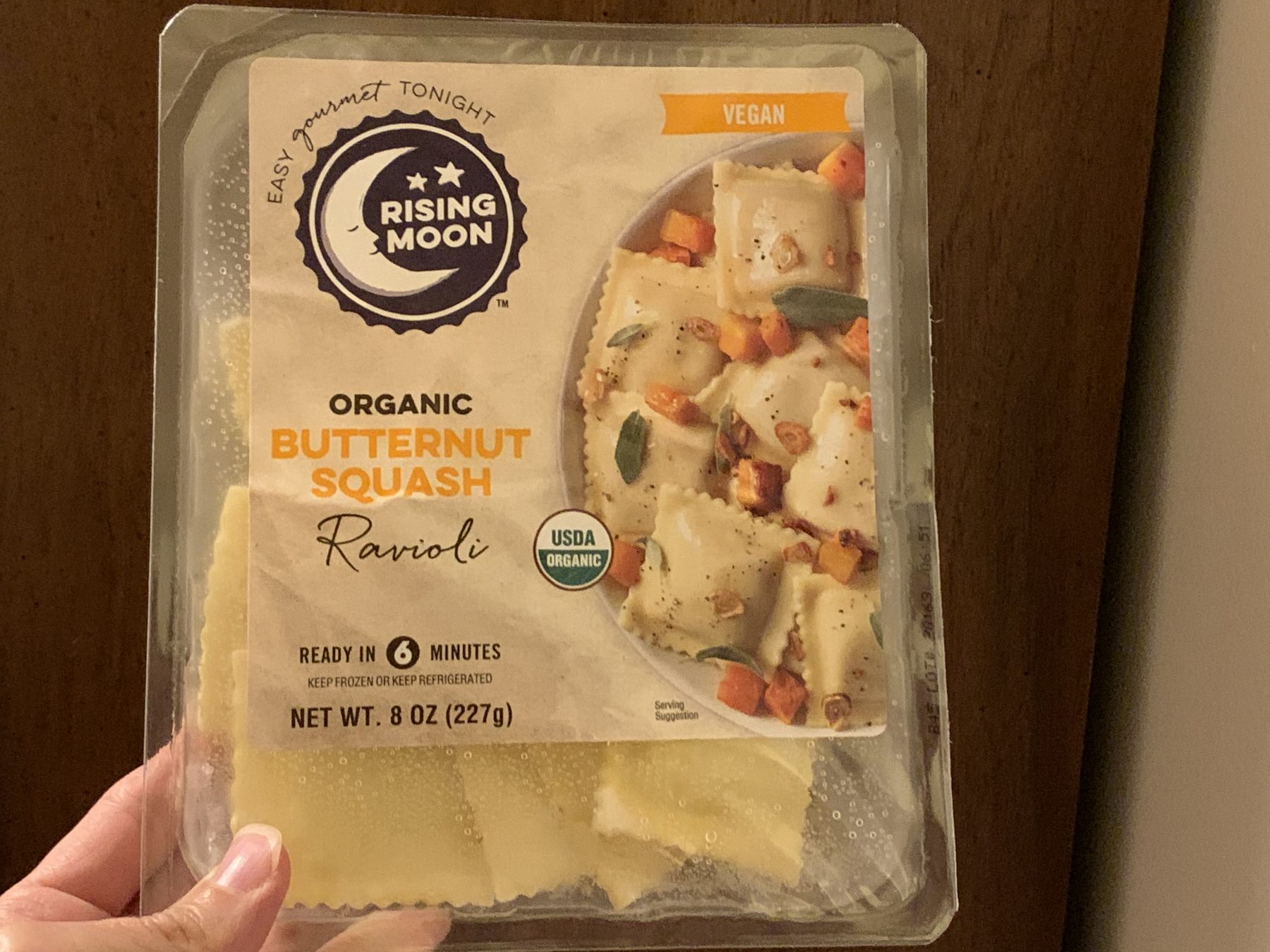 Butternut Squash Ravioli by Rising Moon
I love butternut squash! And I don't always have time to cook, so I was thrilled to find and buy vegan butternut squash ravioli by Rising Moon. I paired with a salad, and a delicious vegan dinner was on the table in less than 10 minutes!
The sweetness of the butternut squash melds with the nutmeg and other spices. The flavors are balanced; nothing overpowers.
Rising Moon makes several flavors of vegan ravioli: Butternut Squash, Spinach Florentine, Garlic and Roasted Veggie. (Note: their gnocchi is vegan too!)
Here's what I love about this vegan butternut squash ravioli:
Organic: I'm keeping pesticides out of the groundwater.
Protein: 6g of protein per serving. I often pair with Treeline cashew cheese or green peas for a protein packed meal.
Quick: these delicious morsels cook in 6-8 minutes.
Fancy: I topped with fresh parsley, olive oil, and black pepper flakes for a beautiful meal.
YUMMY! These are seriously delish! I could eat them every day :)
I always buy vegan butternut squash ravioli at my local co-op. It doesn't look they Amazon carries them, but you can check the Rising Moon website for a store near you.
---
Looking for more vegan foods? Visit the Vegan Food Reviews section to discover more products you can buy online or in stores. You'll find products for vegan desserts, snacks, dairy and meat alternatives, and frozen/ packaged meals. I share vegan food that tastes good. These products are #YummyPlantsApproved!
Prefer to cook, bake, and make your own vegan snacks? Check out the Yummy Plants easy vegan recipe collection.
Are you a beginner vegan? Visit the Start Here page for tips to help support your vegan journey or pick up a copy of It's Easy to Start Eating Vegan.