Sojasun Chocolate Dessert – Vegan Products in France
Judging by the dozens of varieties available throughout la belle France, it's fair to say that French folks really like pudding.  Who'd have guessed? The stuff is just a little old-fashioned, but one spoonful of Sojasun's chocolate dessert and it's easy to see why the creamy stuff has retained its popularity over the decades.  What makes these little dessert cups especially great is that, besides being vegan and calcium-fortified, they're made with non-GMO soybeans grown in France, where food-regulation standards are stringent. Not a fan of chocolate? Try some of Sojasun's other tasty flavors including Caramel and Café. When vacationing in Paris and beyond, consider adding them to your picnic basket or stashing some in the fridge at your Airbnb digs for an easy vegan treat any time of the day.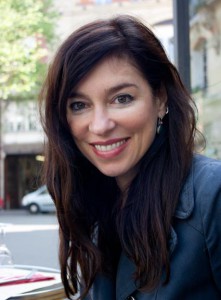 The recipe for a happy life, according to Aurelia d'Andrea, calls for one part great food, one part travel adventure, and two parts companionship (human and animal, in equal measure). She's living out her kitchen-inspired credo in San Francisco and Paris, France.
Aurelia's new book, Vegetarian Paris, is now available now!