Petit Pot Vegan Chocolate Pudding (Coconut Milk Base)
UPDATE: The review below was for the original Petit Pot plant-based chocolate pudding made with a coconut milk base. The company has now changed to an oat milk base and is selling the jars in a 2-pack. The new oat milk vegan chocolate pudding is a different product than the one featured in this review. The oat milk flavor and texture are different and the new 2-pack jars are plain glass. (The 2-pack jars don't feature the Louis character in the same way.)
Say Bonjour to the Petit Pot vegan chocolate pudding! This adorable little dark chocolate dessert makes my heart and taste buds smile :) Not only is this pudding delicious, but the jar itself is sweet. The Petit Pot logo front and center is a joyful beret-clad character named Louis. I just can't bear to part with these cute jars!
Here's what I love about this vegan chocolate pudding by Petit Pot:
 This vegan pot de creme has an intense dark chocolate flavor with a rich and creamy texture.
It's already portion controlled. Each glass jar contains a single serving of this scrumptious pudding.
The glass packaging is artwork and it's fun to reuse the jars. (I currently store my bulk spices in the the empty jars. (Hi Louis!)
Petit Pot currently makes two vegan flavors: Dark Chocolate and Vanilla Rice Pudding. They have a vegan dessert section on their website so you can monitor their offering as it changes.
You can find the Petit Pot vegan chocolate pudding online at Amazon or through the Petit Pot website.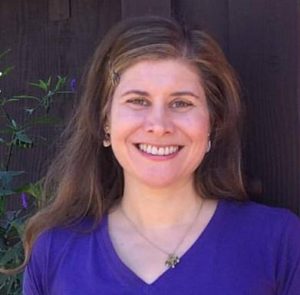 Rebecca Gilbert is the founder of Yummy Plants and the author of It's Easy to Start Eating Vegan. She's a former competitive figure skater whose switch to a vegan diet healed her chronic joint pain. Rebecca has been a featured speaker at the World VegFestival in San Francisco, Vegetarian Summerfest, the New York City Vegetarian Food Festival, and Paris Vegan Day. She has presented on live television and given corporate talks. Book Rebecca to speak at your organization.