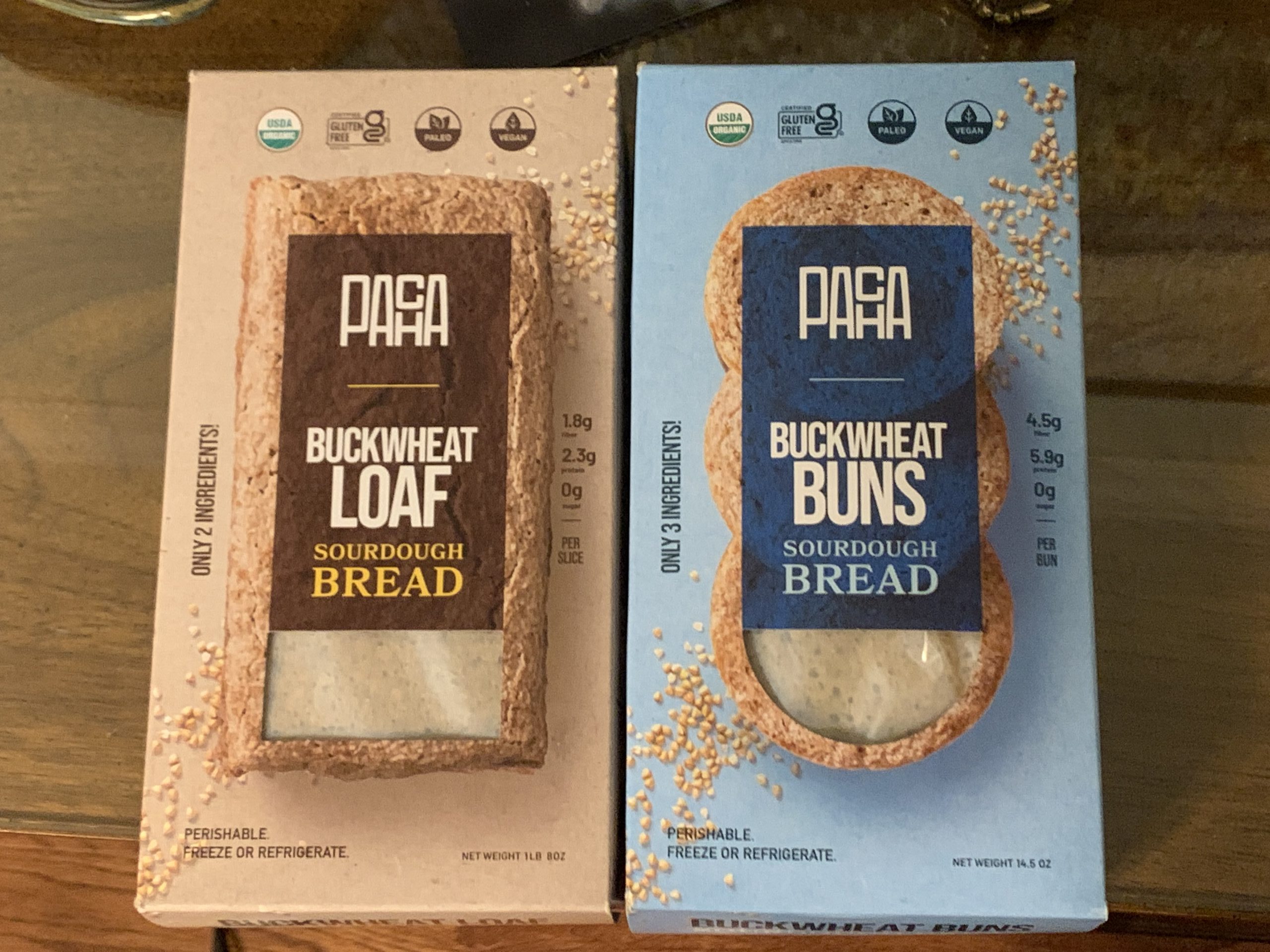 PACHA Vegan Gluten-Free Bread
I'm a big fan of the new PACHA vegan gluten-free bread! PACHA sprouted buckwheat breads are vegan, gluten-free and even paleo. The sprouting process makes these yummy breads more digestible. And all of these organic breads have less than 5 ingredients – such clean products!
PACHA offers 4 flavors: two savory flavors, Cheesy Herb and Garlic Rye,  and two plain sourdough flavors in different shapes. I tried (and loved!) the two plain breads: Buckwheat Sourdough Loaf and Buckwheat Sourdough Buns.
Quick tasting tip: TOAST these sourdough breads. These toasted treats were perfect for breakfast and lunch sandwiches, a healthy protein boost with a salad, and a snack with butter and jam. (If you don't toast them first, you will not have the same taste experience.)
I was pleasantly surprised at the difference in my fullness level after eating PACHA sprouted buckwheat breads vs regular bread. I felt very satisfied and full, and I also stayed feeling full for hours afterwards. The complex carbohydrates in the whole, sprouted, and fermented grains in these breads made a big difference in my hunger levels and kept me satisfied all day. And I didn't feel bloated at all.
I'm really excited to have a new vegan gluten free bread brand that also supports the environment!
There's so much to love about this brand:
The toasted breads are SO yummy! And healthy – with minimal ingredients.
High Protein content – 6g of protein in each bun.
All PACHA breads are organic, sprouted, vegan, paleo and gluten free.
PACHA uses regenerative agriculture to help improve soil and increase biodiversity.
The packaging is 100% home compostable.
Not only are PACHA breads tasty and healthy, but this company is also committed to doing good for the planet. Thank you PACHA for your commitment to making this world a better place. <3
Rebecca Gilbert is the founder of Yummy Plants and the author of It's Easy to Start Eating Vegan. She's a former competitive figure skater whose switch to a vegan diet healed her chronic joint pain. Rebecca has been a featured speaker at events including the World VegFestival in San Francisco, Vegetarian Summerfest, the New York City Vegetarian Food Festival, and Paris Vegan Day. She has presented on live television and given corporate talks. Book Rebecca to speak at your organization.