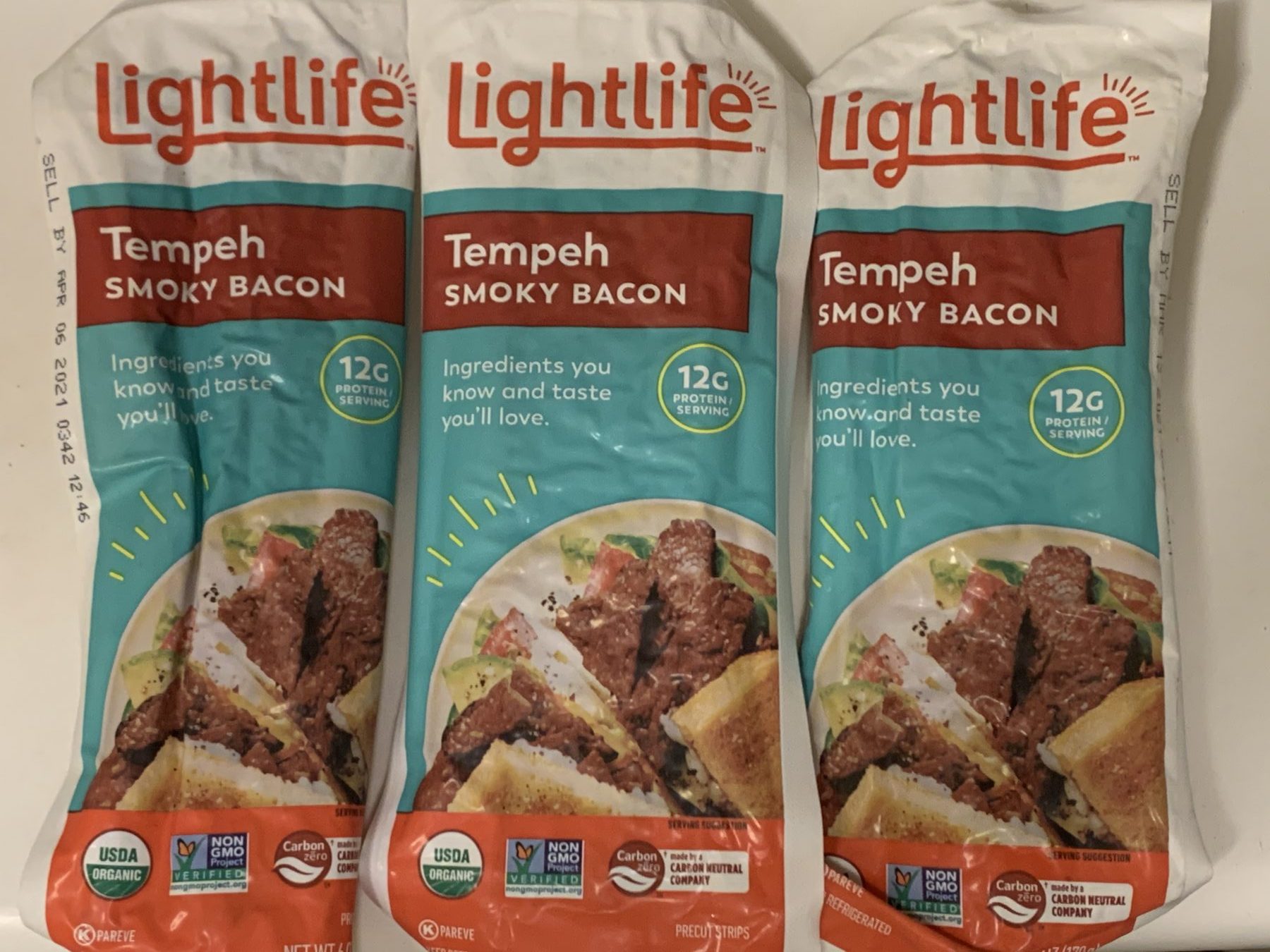 Tempeh Bacon by LightLife
Move over bacon! Smokey Tempeh Bacon by LightLife is a fake bacon meat alternative and it's cholesterol-free! These tasty tempeh bacon strips cook quickly and have 24% RDA of protein per serving.
Here's what I love about this fake bacon meat alternative:
It's organic! That means non-GMO soy.
High in protein: 12g in 4 strips (and only 140 calories)!
AMAZING on a TLT sandwich (Tempeh, Lettuce, Tomato).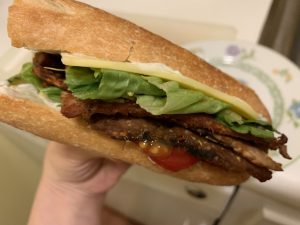 I like to cook my tempeh bacon strips oil-free in a ceramic pan, but you can also fry them in oil. I prefer not to add oil to my fake bacon strips. Maybe an air fryer would be tasty? If you try the air fryer method, let me know how it works!
The flavor for this product is spot on bacon-y. You can absolutely taste the liquid smoke in every bite!  Just know that the texture is still different, no matter how you prepare them. (These strips are thicker than traditional bacon.)
Here's how I like to use this product: these tempeh bacon strips are delicious on sandwiches, in potato dishes, and as salad toppers. And sometimes I just eat them straight out of the pan :) I also like to crumble a few cooked strips into my cashew cream sauce for extra texture and a nice smoky flavor.




Additionally, these Smokey Tempeh Bacon strips are minimally processed. According to the Lightlife website, these are the only ingredients:
WATER, CULTURED ORGANIC SOYBEANS, SOY SAUCE (WATER, ORGANIC SOYBEANS, SALT, ORGANIC WHEAT), ORGANIC CIDER VINEGAR, ORGANIC EVAPORATED CANE SYRUP, LESS THAN 2% OF: ORGANIC BROWN RICE, SEA SALT, NATURAL SMOKE FLAVOR, BEET POWDER (COLOR), YEAST EXTRACT, ORGANIC DRIED ONIONS, SPICES.
LightLife Smokey Tempeh Bacon is available at grocery chains throughout the US. You can also buy online through Amazon/ Whole Foods.
Note: if you'd prefer a shelf stable fake bacon product, McCormick Bac'n Bits are accidentally vegan.
---
Looking for more vegan foods? Visit the Vegan Food Reviews section to discover more products you can buy online or in stores. You'll find products for vegan desserts, snacks, dairy and meat alternatives, and frozen/ packaged meals. I share vegan food that tastes good. These products are #YummyPlantsApproved!
Prefer to cook, bake, and make your own vegan snacks? Check out the Yummy Plants easy vegan recipe collection.
Are you a beginner vegan? Visit the Start Here page for tips to help support your vegan journey or pick up a copy of It's Easy to Start Eating Vegan.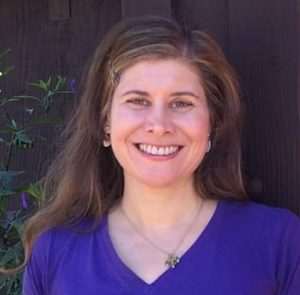 Rebecca Gilbert is the founder of Yummy Plants and the author of It's Easy to Start Eating Vegan. She's a former competitive figure skater whose switch to a vegan diet healed her chronic joint pain. Rebecca has been a featured speaker at events including the World VegFestival in San Francisco, Vegetarian Summerfest, the New York City Vegetarian Food Festival, and Paris Vegan Day. She has presented on live television and given corporate talks. Book Rebecca to speak at your organization.
---